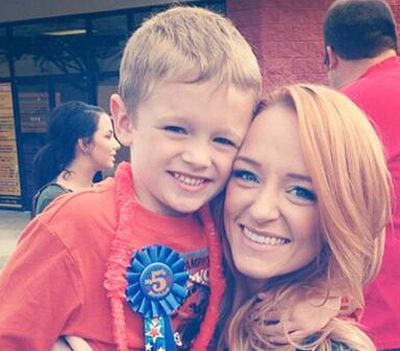 It's been over a year since the original Teen Mom series ended, but one of its stars, Maci Bookout, is still doing her best to help prevent teen pregnancy. (Unlike her co-star, Farrah Abraham, who is doing her best to ride out her pathetic 15 minutes of fame!)
The MTV reality star recently wrote an article for Cosmopolitan magazine in which she discussed her life as a mom to a five year-old, why she did 16 and Pregnant and what she says to people that say that 'Teen Mom' and '16 and Pregnant' help to promote, rather than prevent, teen pregnancy.
"I can definitely see why people say the show glamorizes teen pregnancy," Maci wrote. "But if anyone ever sat down and watched it — especially the 16 and Pregnant episodes — there is nothing glamorous about that."
Maci also wrote that if '16 and Pregnant' had been around at the time she and ex Ryan Edwards were having unprotected sex, it's likely that she never would have gotten pregnant at all.
"If I had been 16 and on my couch, watching a show like that, it would have made a difference in how I thought about birth control," she wrote. (Not sure '16 and on the Couch' has as good of a ring as '16 and Pregnant' does!)
"I was the perfect representation of a girl who never should have gotten pregnant," Maci wrote. "I was very involved, I had a lot of friends, I was playing sports. If I had seen my story, I would have thought, wow, that could happen to me."
In her article, Maci encourages girls to go get themselves some birth control and not to worry about whether or not popping the pill everyday makes them seem "slutty."
"There are some opinions out there that birth control is bad or it makes you slutty," Maci wrote. "That's one reason I try to be so open about it. Who you're having sex with and how many people you're having sex with is no one's business but yours. Being on birth control doesn't mean anything except that you are smart!"
Want to learn all about Maci Bookout's childhood, and how she and the girls were cast on the first season of '16 and Pregnant?' Head on over to Amazon and pick up a copy of The Ashley's book, Teen Mom Confidential: Secrets and Scandals of MTV's Most Controversial Shows! The Ashley gets all up in all of that! (Oh, and it's now available on the iBooks as well, for those of you that are Apple-inclined!)
(Photo: Twitter)