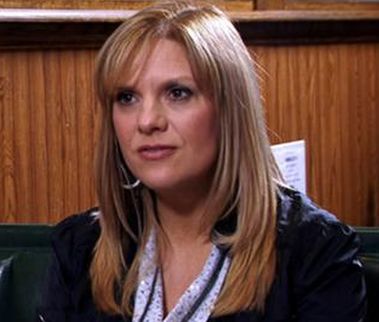 The girls of Abby Lee Miller's dance team are shaking in their jazz shoes!
According to Dance Mom star Melissa Gisoni Ziegler, Abby is considering making over her dance team.
"Abby keeps saying she is going to replace a child this year — or maybe more than one child," Melissa said in a new interview with The TV Page. "I don't feel like it is going to happen, but you really never know with Abby."
Melissa, whose daughters Maddie and Mackenzie Ziegler dance on Abby's team, said that while six episodes of the new season have already been filmed with the regular team, an audition was recently held to find potential additions (or replacements, perhaps?)
"People are really desperate to be on the show," she said. "We had an open call this past weekend [in Atlanta] and I have never seen anything quite like it before. It was the craziest thing I have ever seen in my life."
According to Melissa, reality TV fame wasn't what she signed up for when she and her daughters decided to do 'Dance Moms.' In fact, she didn't even know they were going to be on a reality show!
"We never thought it would even go [on the air]. We weren't told it was a reality show," she said. "We were told it was a docu-series called 'Just Dance.' So we signed on for six episodes and it went crazy and they turned it into 'Dance Moms' and now we are going into Season 4."
Click here to read the rest of Melissa's revealing interview!
(Photo: Lifetime)