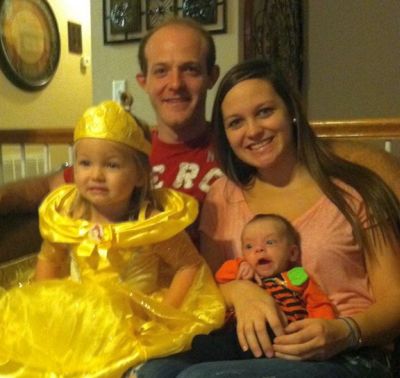 A lot has changed for 16 and Pregnant star Sarah Roberts since she appeared on the fourth season of the show in 2012. Although she was featured in the "Season 4: Where Are They Now?" special, which aired this summer, Sarah's life is very different today.
The reason? She "secretly" had another baby!
Sarah confirmed to The Ashley that she was six months pregnant when MTV arrived to film her segment of the "Where Are They Now?" special. However, she chose to keep her pregnancy a secret from the production team.
"I didn't want negative comments about an innocent child," Sarah told The Ashley. "She didn't deserve that."
The film crew never noticed that Sarah was pregnant. (But honestly, looking at the footage, that's not a surprise since she was very tiny for being six months pregnant!)
The baby, whom Sarah and her boyfriend Justin named Tessly, was born on October 1, 2013. She joins Sarah's daughter, Tinleigh, whose birth was featured on Sarah's episode of '16 and Pregnant.' Justin (pictured above with Sarah) is the father of Tessly.
Sarah says she's happier than she's ever been with her new family. The father of her first daughter, as you may remember, was Blake Thomas, who took off weeks after Tinleigh was born to go work on a shrimp boat. (As you do.) Last year, "Big Red" landed himself behind bars!
According to Sarah, Blake is currently living nearby with his new girlfriend (and new baby!) and, although he still speaks to Sarah frequently, he is not in his daughter's life.
"He doesn't follow through when he plans to see her," Sarah said.
Congrats to Sarah on her newest addition!