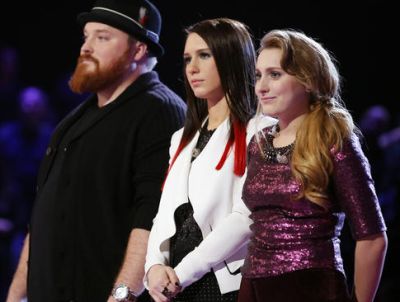 A new contestant save feature was introduced on The Voice last week that enables Twitter users to "instantly save" one of the bottom three contestants. After a few minutes of hashtag mania over on the Twitter, one contestant is pulled from the elimination wreckage and allowed to continue on in the competition, while the other two are eliminated.
Last night saw the elimination of Kat Robichaud of Ceelo Green's team and Austin Jenckes of Blake Shelton's team. They, along with Caroline Pennell, were in the bottom three and viewers hashtagged Caroline to safety using the Twitter instant save.
While it was all well and good for Caroline, it caused The Ashley to wonder how fair the Twitter Save actually is. Because the show airs live to the East Coast, by the time it airs on the West Coast, the Twitter Save time is long over and the eliminated contestants are already being handed their bus tickets home. This begs the question: do contestants from the East Coast have an unfair advantage?
Caroline, who hails from New Jersey, received the most Twitter votes, which is no surprise because her hometown fans were able to jump on the Twitter machine and save her. The same cannot be said for poor Austin, who is from Washington (the state, not the D.C.) Unfortunately, his hometown supporters did not have the opportunity to vote for him because the show hadn't aired yet.
Although it is true that fans on the West Coast are not banned from voting during the save, it is certainly not easy to figure the exact few moments to tweet when you are not able to watch the broadcast live.
Last week, Kat was saved using the Twitter save. She, like Caroline, hails from the East Coast.
After last night's elimination, one angry viewer pointed this out on the show's official Facebook page:
"The instant save is pretty unfair to the West Coast contestants," Debbie Wise Denton wrote. "People like to support their home town provider…Sure we can log on ahead of time and see who gets voted out but that's like reading the end of the book first. I can't help but wonder if Austin would have been saved had he lived in a different time zone."
The Ashley totally agrees! What do you think?
(Photo: NBC)