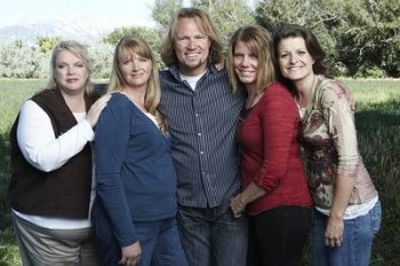 Get ready for more polygamy hi-jinks! Kody Brown and his four wives–Meri, Janelle, Christine and Robyn— are set to return to our television screens later this month!
According to a press release distributed by TLC, Sister Wives will be back on TV starting on December 29, and from the looks of it, the new episodes will contain some pretty heavy stuff!
The eight new episodes aren't officially being called a new season for some reason. The fourth season, which ended in September, saw the wives moving into their new cul-de-sac homes (except for Meri, who was probably still whining that she didn't get her damn wet bar!) This season, there will be a plethora of new drama!
Here are a few things we will see in the new episodes:
Meri finally moving into her new house. (I can't wait to see how much crap she complains about!)
The family attempting to throw themselves a commitment celebration, despite the fact that, according to the press release, "some of Kody's marriages are still strained and the wives admit that they are not all as close to each other as they want to be."
Meri being sad over her only child, Mariah, leaving for college.
A death in the family. (This is most likely referring to Kody's brother, Curtis, who died in a tragic accident in June.)
The new episodes will air at 9 p.m. on Sunday nights. The air date is for the United States only; no date has been announced for the UK or anywhere overseas. (If The Ashley finds it, she will surely post it here for you guys!)
Are you excited to see the Browns again?!
(Photo: TLC)