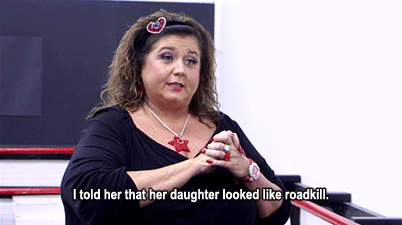 Abby Lee Miller has been called ruthless when it comes to the way she deals with the girls on her dance team (and their parents!), but it for Season 4, it looks like the reality TV diva is bringing 'ruthless' to a whole other level. In a shocking interview with The TV Page, Abby confirms that she has already replaced one girl on her team, although she did not reveal who got the boot.
Her response when asked how she felt about breaking the booted little girl's heart?
"Oh, well," she told the site. "Man up!"\
Abby later defended her decision to kick someone off the team (and the reality show).
"It's not about me breaking your heart and telling you that you are off the team, you could just look in the mirror," she said. "If you are not growing and improving like the rest of the dancers, it is time to say goodbye, sweetheart."
Um…ouch.
However, Abby said it's not even the girls' fault when they can't hack it on her team. It is, in fact, the fault of her parents, who aren't dedicated enough to their child's craft.
"I think some parents aren't taking responsibility for their children's training," she said in the interview. "They are not at the studio as often as they could be, trying to become better dancers."
I seriously just…can't with this lady…
To make yourself even further want to smack this lady, read the entire interview by clicking here.