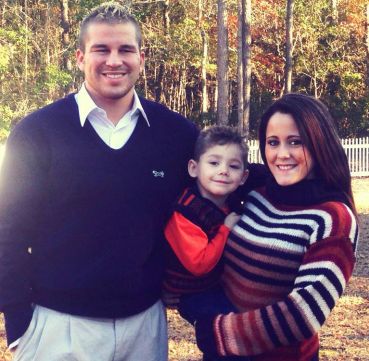 "Well Juh-nelle! Looks like ya did it again!"
Rumors have been swirling for weeks that Teen Mom 2 star Jenelle Evans is currently pregnant and, although Jenelle has yet to confirm or deny the allegations, The Ashley can confirm that she is, indeed, expecting another child!
Here's what The Ashley knows, based on information she got from her very good inside sources:
Jenelle is pregnant and MTV knows all about it. In fact, they decided to prolong Season 5 filming after they found out so that her pregnancy can be included in the upcoming season. Filming was supposed to have ended sometimes around Thanksgiving but they decided to extend it because of this. The fifth season will end with Jenelle's pregnancy. While we won't get to see her give birth, etc., we should get to see some footage of her doctors' appointments, etc.
The baby's father is Jenelle's booooooyfriend, Nathan Griffith. Like Jenelle, this will be his second child.
The baby is not exactly a surprise. From what The Ashley hears, Jenelle and Nathan were actually trying to get pregnant as far back as this summer.
In regards to the story about MTV contacting the tabloids regarding Jenelle's pregnancy, much of that is false. While several magazines are aware of the pregnancy, they are nervous to run any sort of confirmation about the pregnancy because of what's happened with her in the past (Not to mention the whole Catelynn Lowell fake pregnancy fiasco last year, which left one magazine looking very foolish.) In reality, if a story of this nature is going to make it into a tabloid, it will be under MTV's control. (The Ashley's bets are on it being in Us Weekly, who have a working relationship with the network when it comes to  these types of things.)
Reports that Jenelle and Nathan are getting a spin-off are completely false, several show insiders have told The Ashley.
The Ashley has known about Jenelle's pregnancy for a while; however she wanted to make sure the information was correct before she posted it. Jenelle's boyfriend Nathan certainly fueled the pregnancy rumors when he posted this to his Facebook page on December 5:
I love you Jenelle Evans and whatever you are doing keep doing it because you are keeping me around. I wouldn't have it any other way especially the surprise you are giving in the future. I can't wait for it and I can't wait to see the outcome. I love you so much baby.
Well, there is one positive thing in all of this– at least the father isn't Jenelle's loser (and current) husband, Courtland Rogers!
The Ashley, for one, would like to know what Barbara thinks about all of this! Babs– call me!
UPDATE: Jenelle has confirmed the pregnancy to MTV. (Technically, they forced her to confirm it, but still…)
(Photo: Facebook)