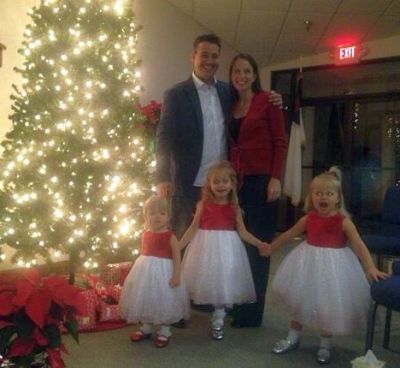 That Boston Rob sure is one fertile Myrtle!
The Survivor star announced on New Year's Eve that is wife (and former 'Survivor' cast mate) Amber is pregnant again! This will make Baby No. 4 for the couple, who got engaged during a live 'Survivor' finale back in 2004.
"My wife Amber is so hot, I can't keep my hands off her," he tweeted, along with a sonogram picture. "Here is to 2014!!!"
Rob and Amber are currently the parents of three little girls, ages 4, 3 and 19 months. He did not reveal if the new baby is a boy or a girl, but for his sake, let's hope it's a boy. Can you even imagine what the bathroom situation will be like in this house when these girls are teenagers?!
Of course, they can always just buy a larger house:  Rob and Amber have each won a season of 'Survivor' and the accompanying $1 million prize. She took home the win on 2004's "All Stars" season, while Rob was the winner of the "Redemption Island" season in 2011 (and the fan favorite $100,000 prize!)
Congrats to the couple!
(Photo: Twitter)