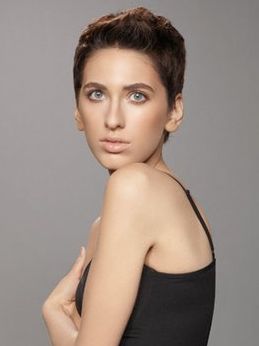 Sara Longoria was one of the most memorable contestants America's Next Top Model has ever seen (and that's saying something considering there's been about 152 seasons of this show!) From her rattail to her description of being bisexual and polyamorous, she stuck out on the otherwise ho-hum Season 16 back in 2011. Although she only made it through four episodes of the show, she experienced enough during her time in the house to answer some of our burning questions about the show during a Reddit "Ask Me Anything" session last week.
As you Roundupers know, The Ashley is a big fan of answering your frequently asked questions about reality shows, but has yet to do one about 'America's Next Top Model.' Here, Sara reveals some scandalous things we didn't know about the show!
The producers treat the girls like prison inmates during casting.
"Casting week involves days of interviews with producers, doctors (IQ, personality, mental/emotional health, blood work, etc) in a hotel," Sara wrote. "You're not allowed to talk to any of the other girls (which we did secretly) or leave your room without being 'fetched' by a handler."
Sounds fun!
You can't go home after you're eliminated.
Although Tyra makes a big deal about sending an eliminated contestant "home," Sara said that the model doesn't actually get to fly home. Instead, they are shelved in a hotel.
"We're housed in a separate location," Sara said of the eliminated models. "Probably my favorite part of everything now that I think of it. The eliminated girls stay in a hotel until filming moves overseas and then they fly home."
The models are cut off from the entire world while filming.
Much like the contestants that stay in the 'Bachelor' mansion, the models aren't allowed access to anything that would give them a sense of what's happening outside the "Tyra bubble."
"No phones, TV, magazines, newspapers, or internet," Sara wrote. "We got our phones back on the way to the airport to fly home."
We don't get to see most of the good stuff that goes on in the house.
"[I was surprised at] how little of what went on was shown," Sara wrote. "I had to go to the ER the first night, gave a safe sex talk/condom demonstration to the girls, took showers with Monique, and had a wall almost fall on me and a camera guy. Never made it in an episode."
Want the answers to your burning questions about some of your other favorite reality shows? Click the links below to read The Ashley's past "Answers to Your Frequently Asked Questions" posts.
(Photo: The CW)