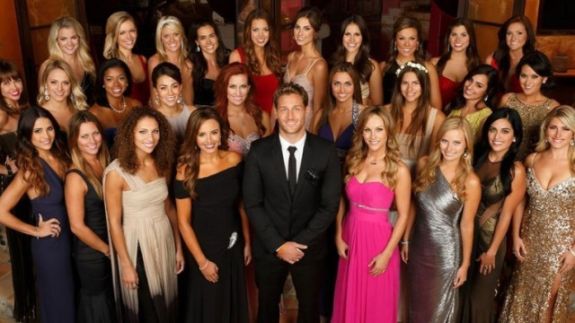 Last week, we met the 27 girls desperately hoping to become the wife of Bachelor Juan Pablo Galavis. Other than a two- to -three- word description that appears at the bottom of the screen ("Dog lover," anyone?) and their bios on ABC's 'Bachelor' website, we really don't know much about these girls. Lucky for us, there's the Internet, and, lucky for you, The Ashley has no life, so she decided to see what information she could find about these gals.
What she found was that producers basically concoct a "character" for these women to play: ditzy lawyer, wholesome first grade teacher, etc. and omit large portions of their actual life stories to better fit their character. This, of course, isn't exactly shocking news, however, it does make for some interesting reading once their real pasts are uncovered. (Just to note– The Ashley does her best to provide credit where credit is due and must state that much of this information was pulled from other sites. She has made every attempt to credit those sites when possible.)
Let's dive in, shall we?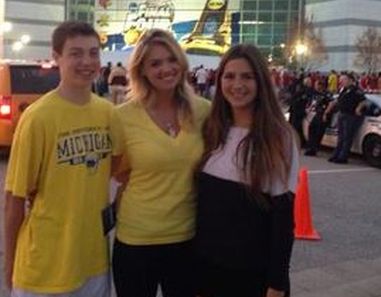 Lucy Aragon: BFF to Famous Models
The oft-naked "free spirit" may look like some sort of weird hippie freeloader, but in real life she's anything but. As apparent on her Instagram and Twitter, she's actually a good friend of some of the world's biggest models, including Kate Upton and Chrissy Teigen! And (spoiler alert!) she does not end up with Juan Pablo at the end of the season. How do we know? She's currently dating Snapchat CEO Evan Spiegel!
She's a model herself (not to mention a nudist) and appears to have been chosen by producers because they knew she'd bring the crazy. Her Instagram bio even states "I like to be naked."
Cassandra Ferguson: Baby Momma to NBA Star Rodney Stuckey
On last week's episode, single mom Cassandra got emotional during the cocktail party because she missed her two year-old son, Trey.
Although they have yet to discuss the relationship that led to Cassandra's son being birthed, it appears that her baby-daddy is none other than Detroit Pistons player Rodney Stuckey. It's not exactly shocking, since she is listed in her 'Bachelor' bio as a former NBA dancer. Based on some photos that have been circulating around InternetLand, it appears that Cassandra and Rodney's son wasn't the result of a random dancer/player hookup, it looks like they actually had some sort of relationship. Cassie has certainly managed to pack a lot into her 21 years!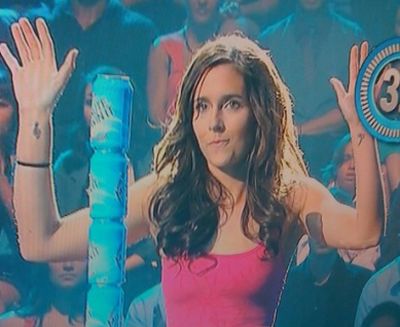 Lauren Solomon: Four-Time Reality Show Contestant
Lauren, the chick that rode in on a piano bike on the first night, appears to have a bit of an obsession when it comes to appearing on reality shows. 'The Bachelor' is the fourth reality show (yes, The Ashley counts game shows as reality shows!) Lauren has appeared on in recent years. Before swooning over Juan Pablo, she appeared on Minute to Win It, Let's Make a Deal (so did The Ashley!) and tried out for America's Got Talent. She lost each time, however, but she did meet a man she almost married on 'Minute to Win It!'
She's also an aspiring actress; however to date, her claim to fame is appearing on some show called 'That's So Awesome' for three episodes as "Party Girl #1."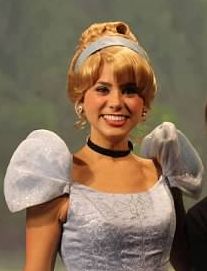 Amy Long: Former Disney Princess
Amy's embarrassing "interview" with Juan Pablo on last week's episode was enough to get her eliminated. While she may be a terrible reporter, it turns out she was very good at another job she used to have: being a princess at Walt Disney World!
According to Reality Steve, Amy was a coveted "face" character at the Magic Kingdom. (FYI for those of you that didn't grow up in the backyard of Disneyland like The Ashley did, a "face" character is someone who walks around the theme park with their face showing, i.e. not someone that is wearing a furry head. It's a very hard position to get that requires going through rounds and rounds of critiques.)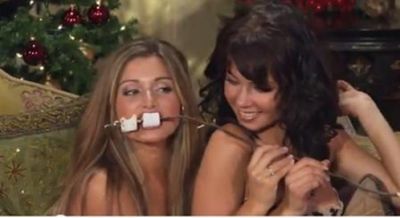 Elise Mosca: Made a (very strange) sexy-time movie!
Reality Steve also uncovered the scandalous past of contestant Elise Mosca, the girl that claims to be a first grade teacher. Apparently, Elise took a extended leave of absence in September from her job at a Pennsylvania elementary school to be on the show. She headed to Los Angeles to try to make it in the entertainment world, leaving behind her reported $51,000 a year job to work as a cocktail server at LA hotspot Playhouse. (So, yes, those shots in "her classroom" that were shown on first episode of 'The Bachelor' were fake.)
However, before she was hired by the school district in 2008, Elise made a little extra money by starring in "Yule Log Hotties," which is possibly the creepiest sexy time movie ever made. (Other than Farrah Abraham's p0rno, of course.) In the video, Elise appears in her bra and undies and sits around a fireplace with other girls in their bra and undies and eats marshmallows and pretends to talk. Seriously, it's really odd. If you want to watch the clip with her in it, head on over to Reality Steve's YouTube page. The video isn't exactly a p0rn– there's no nudity or humping or anything like that, but it's probably not safe for work.)
The video has caused major trouble for Elise and her school district, and she may lose her teaching job because of it.
Oh, and apparently she used to "smoosh" Jersey Shore star Mike "The Situation" Sorrentino on occasion. She actually had a hand in casting him on the MTV reality show, according to a new report on Radar Online.
All of this stuff about Elise just came out over the last few days. She has yet to address any of it on her Twitter.