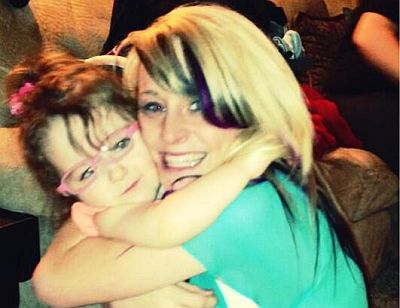 Teen Mom 2 star Leah Messer-Calvert recently gave her first interview regarding her daughter Ali's mysterious illness. Viewers have watched for four seasons as Leah and her family have searched for answers as to what is causing the little girl's developmental problems.
She told In Touch Weekly that Ali has finally received a heartbreaking diagnosis: an rare and incurable form of muscular dystrophy. She revealed that even though Ali has made great strides in her walking, she will eventually end up having to use a wheelchair.
Before we go on, The Ashley would just like to say that Leah did not sell her daughter out to the tabloids, as some fans have said. MTV is most certainly behind this interview (the girls are required to do this type of stuff if the network asks). A quick trick to use to know whether or not MTV is behind one of these tabloid interviews: if the girl is actually quoted, it is an MTV-sponsored interview. The girls cannot give interviews to magazines without the producers' consent, per their MTV contracts.
Moving on…
A new portion of Leah's interview has been released in which she discusses the effects Ali's health problems have had on her twin sister, Aleeah.
"She felt like Ali was getting all the attention," Leah told In Touch. "Ali gets to go to a special-needs program at school, so right now Ali has fun and Ali has friends and Aleeah's like, 'Why can't I go to school? Why can't I do homework.'"
To help Aleeah feel less jealous, Leah enrolled her in a cheerleading classes.
Leah's other daughter, (almost) one year-old Adalynn, has not really been affected.
"[Ali and Aleeah] are just as protective over her as they were with one another," Leah told In Touch. "The girls have a strong bond. It's beautiful."
In the article, Leah also talks about the impact Ali's medical bills has had on her family.
"Financially, it has definitely taken a toll," she said. "One of Ali's medical bills alone was $20,000, so it doesn't matter how much money you make."
In The Ashley's book, Teen Mom Confidential, one of Leah's friends says that Leah agreed to continue with 'Teen Mom 2' in part to have the money needed to pay for Ali's doctors.
"She's thankful that she did [the show] because it has helped tremendously with Ali's medical bills," her friends says in the book.
The 'Teen Mom 2' girls do not get health insurance or other benefits for starring on the show.
(Photo: Twitter)