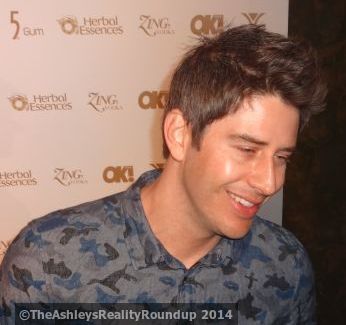 Arie Luyendyk Jr. emerged as a fan favorite during Emily Maynard's season of The Bachelorette and many were shocked when Sean Lowe was chosen to be the next Bachelor instead of Arie.
The Ashley caught up with Arie, who is in town for Sean and Catherine's wedding, at the OK! Magazine Pre-Grammy Party on Friday night, and got the dirt on if he's still friends with recently engaged Emily, and whether he'd ever be 'The Bachelor.'
"I think it would be fun [to do 'The Bachelor'], if I could get enough time off," Arie told The Ashley on the red carpet. "I got lucky when I did 'The Bachelorette' because it was a period that I was able to take time off. I think it would be an amazing experience."
While he didn't find true love during his stint on 'The Bachelorette,' he did find a bunch of BFFS.
"I still keep in touch with a lot of the guys that I met on 'The Bachelorette,'" he said. "Obviously, I'm still close with Sean, and I still hang out with Jef [Holm]. I met a lot of wonderful people because of 'The Bachelorette' that have become great friends."
One person not on his BFF list? Emily Maynard!
"We don't speak," he said. "I don't really talk to her anymore. We have both moved on with our lives."
The Ashley also asked Arie what he thought about the big "Juan Pablo Thinks Gays Are Perverted" controversy from a few weeks ago. He had some surprising insight on the topic.
"I felt for him," Arie said. "English is not his first language so it's harder for him I think. Sometimes things get mixed up. I actually speak another language, I speak Dutch, so I kind of understand how something like that can happen if English isn't your first language."
Arie will run into Juan Pablo, as well as many of the 'Bachelor' franchise alum tonight at Sean and Catherine's live televised wedding! The Ashley can't wait!