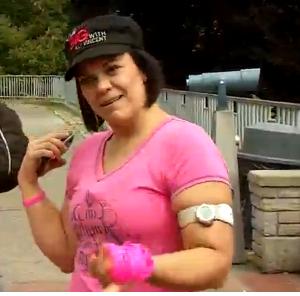 She was the first woman to win The Biggest Loser, but five years after she triumphantly stood on the scale at the finale and accepted her prize, Ali Vincent says she has let herself get "soft" and "fat," and that she has been keeping this secret from the show's fans.
"I can't communicate to people how I need support because I'm too embarrassed to tell the truth of where I'm at," she says in a clip for the season premiere of her show Live Big With Ali Vincent.
Ali, who during Season 5 dropped an incredible 112 pounds, has had her image used on many 'Biggest Loser'-related products, and is a former spokesperson for 24 Hour Fitness. However, she said that the svelte 122 lb. body she had at the 'Biggest Loser' finale in 2008 is long gone.
"After I won 'The Biggest Loser,' I weighed 122 pounds for about 2.2 seconds," she said. "It's been five years since I won and I've seen myself gain at least five pounds a year."
During the first episode of her show's fourth season, Ali decides to get on the scale to see how much weight she's actually gained since her 'Biggest Loser' days.
"I just want everybody to know how much I weigh so I don't have to feel bad about it," she said.
Ali is certainly not the first 'Biggest Loser' contestant to continue to struggle with their weight after the show ends. Many former contestants have had problems keeping the weight off once they leave the Ranch. Last year, Suzy Hoover, a former contestant and current wife of Season 2 winner Matt Hoover, spoke out about this very topic.
"Just FYI…. More Biggest Losers gain their weight back than maintain," she posted to her Facebook fan page. "They are real people. Going [on] TV doesn't quick fix cure all." (You should click here and read all of the other things she had to say about being on the show!)
For her part, Ali said she is having trouble admitting to fans that she has not kept the weight off.
"Telling the truth is hard sometimes," she said.
Ali will reveal her current weight on the season premiere of 'Live Big with Ali Vincent' on January 25.