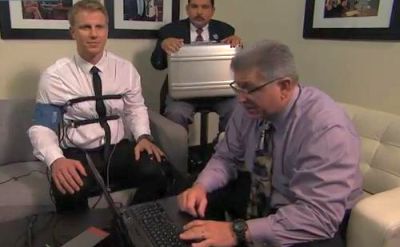 Sean Lowe and his new bride, Catherine Giudici are determined to let the skeptics know that when they said "no sex in the champagne room," they meant it.
The Bachelor couple talked endlessly about how they were waiting until their wedding night to get freaky, and refused to live together until they were married. Over an hour of the couple's two-hour Live Wedding Extravaganza on Sunday was spent talking about how they were going to finally have sex.
Of course, many were skeptical to believe that two young, healthy kids in love had managed to keep their hands (and other parts) off of the other's nether regions since they became engaged in November 2012. One person that was particularly skeptical was late night host Jimmy Kimmel, who asked Sean and Catherine to take a polygram test to prove their claims.
Last week, the couple was hooked up to a polygraph machine and given a lie detector test by polygraph expert Dennis Blackstock. The results of the test were revealed on the show Monday night.
"I assumed they would say no but they didn't, they said yes," Jimmy said about asking them to take the test. (In the video, the couple later admits that they regret agreeing to the test!)
The conclusion? Sean and Catherine really did wait 16 months to get freaky: the test proved that the couple was not lying when they said they had not slept together before their wedding night.
"I have to say I'm proud and disappointed at the same time," Jimmy Kimmel joked.
Watch the clip below:
(Photo: ABC)