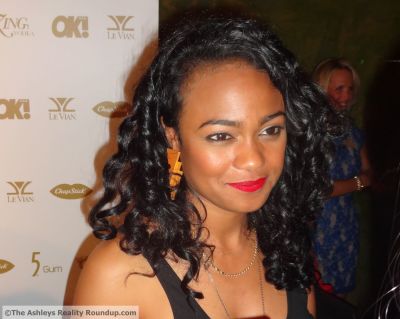 This is not technically about a 'reality show,' but y'all know how The Ashley is obsessed with 1990s TV so here we go…
The men of Full House have been making the rounds this week, reuniting for a Super Bowl commercial and stepping back into their 'Full House' roles last night for a hilarious segment on Late Night with Jimmy Fallon. With all the hubbub surrounding the 'Full House' reunion, fans are wondering if some of their other favorite shows from the '90s might be considering getting back together.
The Ashley caught up with Fresh Prince of Bel Air star Tatyana Ali at the OK! Magazine Pre-Grammys Party on Friday night, and she said that it's definitely something the cast is considering.
"We have discussed it, socially," Tatyana told The Ashley exclusively. "We are still very close. If everybody else wants to, I'd do it too. I feel like everybody kind of feels that way."
Of course, a complete reunion will never be possible. On December 31, James Avery, the actor that played "Uncle Phil" on the series, passed away after open heart surgery. Tatyana and the rest of the show's cast all attended his memorial service.
"At his memorial service, we were all there, along with the crew and the production people [from the show]," she said. "There were so many people from the show there. The feeling there was hard to describe. It honestly felt like we had just finished an [episode] taping."
One other 'Fresh Prince' cast member will probably not attend a reunion, should it ever take place. Janet Hubert, who played the first "Aunt Viv" before being replaced in 1993, has said that she would never take part in anything having to do with Will Smith, who she had a very notorious feud during the show.
"There will never be a reunion … as I will never do anything with an a-hole like Will Smith," she told TMZ in 2011. "He is still an egomaniac and has not grown up. This constant reunion thing will never ever happen in my lifetime unless there is an apology, which he doesn't know the word."
Luckily, the second Aunt Viv, Daphne Reid, is game for a reunion, so Janet can go take her bitterness elsewhere!