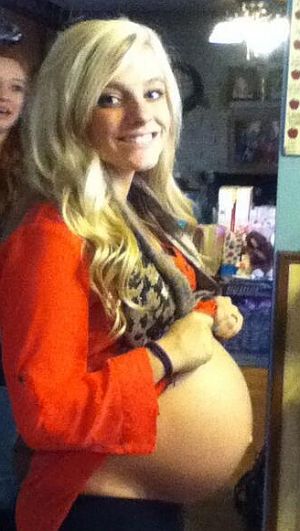 Pregnant Teen Mom 3 star Mackenzie Douthit has landed in an Oklahoma hospital. The very preggo reality star is not there to give birth to her second child, however. Poor Mackenzie, who is a Type I diabetic has landed in the hospital due to her low blood sugar and doctors are desperately trying to keep the young mom from delivering her baby early.
"They really want to Mackenzie to stay pregnant for at least one more week before she has the baby, so she may be stuck in the hospital on bed rest until then," a friend of Mackenzie's tells The Ashley.
Mackenzie, who is expecting a little girl with her husband Josh Mckee, is currently 36 weeks pregnant. She's had an extremely rough pregnancy, from dealing with her diabetes to being physically attacked by a large woman back in October, it's not been an easy road for the 'Teen Mom 3' star.
In addition, she is sporting an enormous baby belly, despite the fact that she is not yet full-term, which is certainly not making life easier on petite Mackenzie. As 16 and Pregnant viewers will remember, she got extremely large when she was pregnant with her first child, Gannon, as well. It is very common for diabetic women to have large babies.
This is Mackenzie's third pregnancy. Before giving birth to her son Gannon in 2011, she carried another baby boy, who they planned to name Oakley, almost to full term before miscarrying. Mackenzie has not yet revealed what she plans to name her little girl.
(Photo: Twitter)