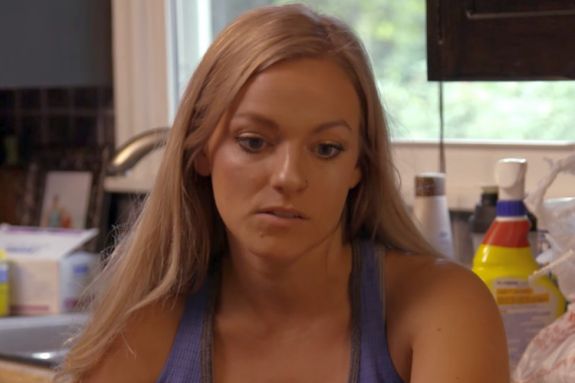 Mackenzie McKee says she had some very dark days after she made a racially insensitive statement on Facebook about Vice President Kamala Harris. The comment contributed to her being let go from her job on Teen Mom OG and sent her life into a downward spiral.
"It was hell for two years," Mackenzie said during a recent interview with the Sarasota SpeaX podcast. "My business [Body By Mac] went under. Every day was emails and messages like, 'I can't believe I prayed for your mom. She probably taught you this, I'm so glad she's dead. You need to be cancelled.'"
As The Ashley reported at the time, Mackenzie made a statement in January 2021 on her private Facebook page about Vice President Kamala Harris.
"It blows my mind that out of all the amazing colored women in this world, that is the one who is making history," she wrote.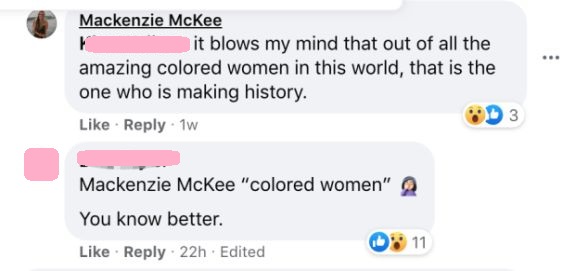 Once word got around The Interwebs that Mackenzie had used the term "colored," Mackenzie was criticized harshly. However, she later insisted— and still insists— that she was unaware that the term 'colored' was racist.
"I meant to say 'amazing woman of color and I said 'amazing colored woman,'" Mackenzie said in an Instagram Live video made a few months later.
In the same video, Mackenzie claimed the producers used her as a pawn to talk about racism, stating that they also required her to go through weeks of "training" for her apology.
"Basically to stay on the show, they wanted me to do a thing where a [Black Lives Matter] organization educates me," Mackenzie said. "That was the agreement to stay on the show. For a month I was trained on how to say sorry."
"I was on these phone calls [with BLM organizations], hours and hours. I'd film one thing, it wasn't good enough," she said. "I took three weeks off work to be trained on the right thing to say to fit MTV's agenda."
Despite all the training, Mackenzie was let go from 'Teen Mom OG.' (Technically, she was never informed that she was "fired"; she was simply not called to film again.)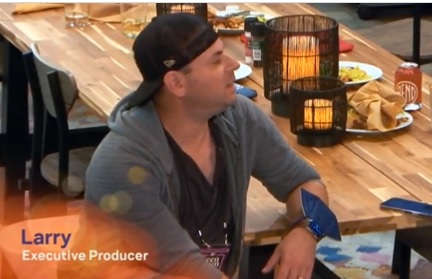 In her interview with the Sarasota SpeaX podcast, though, Mackenzie said that losing her job on MTV was only a small part of what she dealt with after the incident.
"It was really rough….it was like two years, everyday. Even my husband at the time [Josh McKee] was like, 'No one likes you. MTV hates you.' I was going through a lot there…when I say it was bad, it was very, very, very, very bad," Mackenzie said.
During the same time, Josh and Mackenzie split and Mack was having money problems.
"I was like a walking shell," she said. "I was like, 'MTV hates me, the Internet hates me, my business is going under and [Josh] left…my house was in foreclosure."
Things got so bad financially that Mackenzie claimed she had to rely on charity for food.
"Churches were helping feed me. I've never been in this situation and Josh is just M.I.A. No one knows where he is. I chose to leave him and he chose to leave [Florida] but [I was getting] no help [from him financially]," she said. "It's just me and my kids."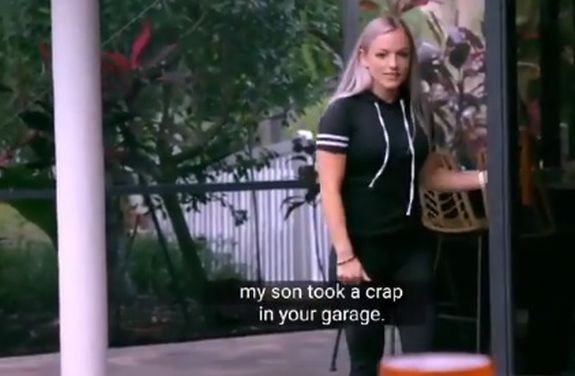 Mackenzie said she eventually apologized publicly for her offensive statement in the way she originally wanted to.
"I made the mistake, so I'm gonna own it," she said. "I just came out and said, 'I am so sorry. I messed up. I messed up really bad. I said something I shouldn't have said and it's no one's fault but mine but here I am. You can love me or hate me. I messed up.'
"I just like, restarted," she added.
Mackenzie— who now lives in Florida with her three kids— said that, despite what went down with MTV, she's still willing to open her life again to TV.
"I do miss sharing my story. Now I can be who I am and I can be more open and I'm not living in this lie, so I can share more authentically," she said, adding that her fans will be able to watch her somewhere soon.
"So there is things coming up where I will be able to share my life and everything that is happening," she said.
You can watch Mackenzie's full interview below.
RELATED STORY: 'Teen Mom' News Pile: Mackenzie McKee Says 'Teen Mom' Producers Helped Her Lie to Make Husband Josh Look Good on TV; Maci Bookout Owes Over $26,000 in Taxes & More
(Photos: MTV)