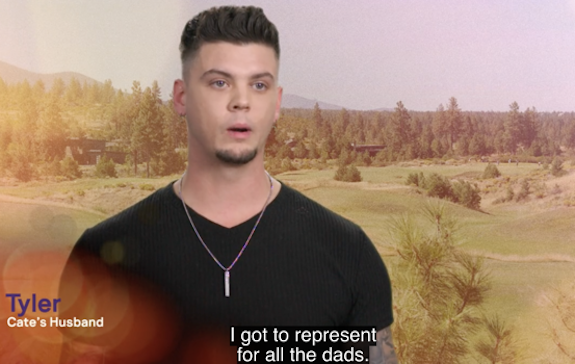 Tyler Baltierra rapping about his dad Butch sounds like a joke from one of The Ashley's Teen Mom recaps, but…nope, it's actually happening.
Just weeks after Catelynn Lowell announced on Instagram that her newly buffed baby daddy had officially joined OnlyFans and that she would be running the account on her husband's behalf, the Teen Mom: The Next Chapter star has revealed another one of her husband's latest "hobbies": rapping.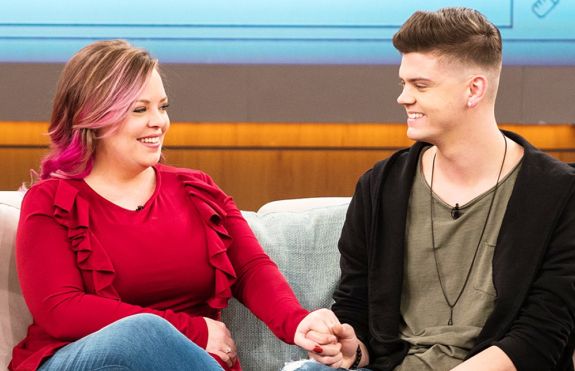 Cate took to Instagram Friday to share with fans a clip of Tyler rapping about his difficult upbringing and the challenges he faced growing up with his father Butch having substance abuse issues and being in and out of prison. Cate suggested in the caption of her post that she had shared the clip without Tyler's knowledge.
"I keep telling him to share his art with people because it's impactful & people could really relate to it!" Cate wrote. "I'm so damn proud of you @tylerbaltierramtv and you are an amazing daddy!! We adore you!"
In the song, Ty spits rhymes about the impact his father's addiction had on him and the lengths Butch went to in order to satisfy said addiction.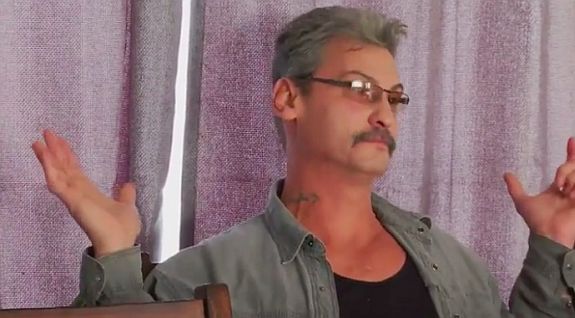 "My heartbeat skips which leads to screams / It always weeps cause those damn drugs are all you seem to ever need / How do you keep getting high over loving your kids, huh?" Tyler raps in one part. "Are we just not good enough? Too much responsibility with no rush, so you just don't give a f**k / You'd rather us be stuck in this addiction messy rut that you dug, huh?"
As the song continues, Tyler calls out his granddad and blames him for some of Butch's issues.
"F**k crack cocaine, f**k those dirty drugs and f**k my sadistic granddad for beating my dad so bad which made him think that love is impossible to last / Which made him weak and made him creep into houses stealing any type of valuable thing just to pawn it off / Just to get some crack back in his glass instead of ever loving me, damn."
The song goes on to include some (unfortunately non-rapping) audio from Butch in which he addresses his substance abuse issues and vows to "right the wrongs" he has caused his son.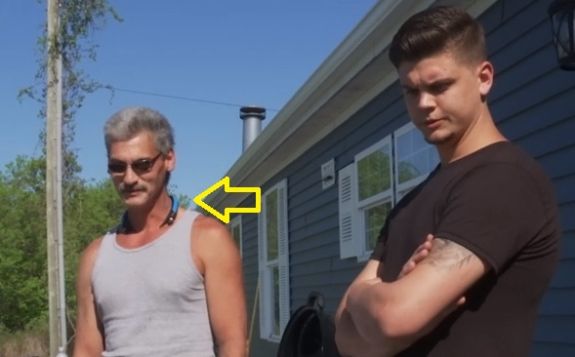 "I'm your father, who loves you very, very much," Butch says in the recording. "I'm also an alcoholic and addict working very hard, staying sober on a spiritual basis and I will never get over drinking or using until I've done the utmost to right the wrongs that I have caused you."
After "discovering" that Cate had shared a sample of his tunes on social media, Tyler bolted straight to the comment section of Cate's post to thank her for always supporting him…even if he "never really planned on ever sharing" his rhymes with the masses.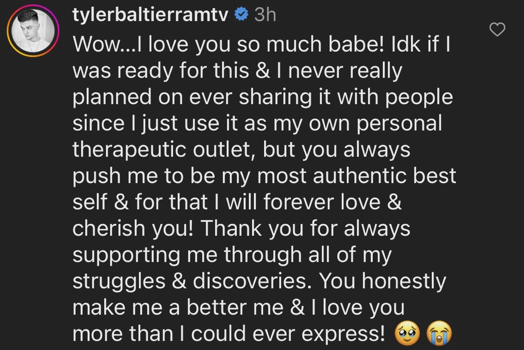 " … I just use it as my own personal therapeutic outlet, but you always push me to be my most authentic best self & for that I will forever love & cherish you!" Tyler told Cate. "Thank you for always supporting me through all of my struggles & discoveries. You honestly make me a better me & I love you more than I could ever express! 🥹😭"
Tyler continued to praise Cate in his Instagram Story, telling fans he's "forever grateful for her."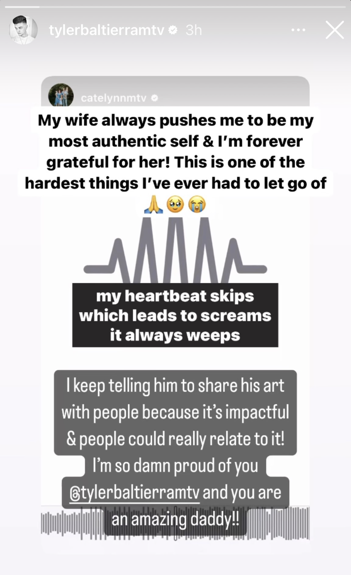 RELATED STORY: Former 'Teen Mom OG' Star Mackenzie McKee Opens Up About Being "Cancelled" After Making Racially Insensitive Statement: "It Was Hell For Two Years"
(Photos: MTV; Instagram)