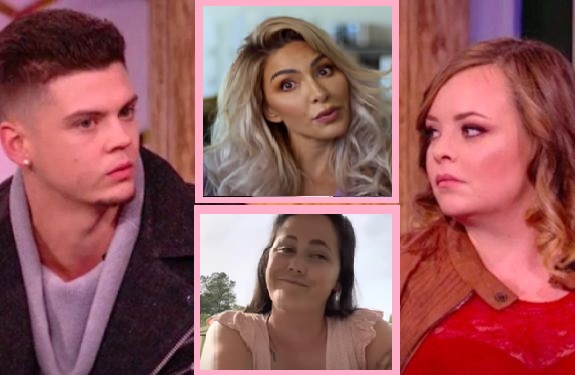 Another day, another 'Teen Mom' star showing off their nether regions on The Interwebs…and 'Teen Mom' stars feuding on social media.
On Tuesday, Catelynn Lowell announced on Instagram that her newly buffed husband, Tyler Baltierra, has officially joined OnlyFans, and that she will be running his account, deciding which photos of Ty's dingle-and-dangles to share with the masses.
While some fans were excited that Tyler would presumably be showing off his girl-baby-maker to weirdos on the Internet, one person who was not thrilled was Ty's former Teen Mom co-star, Farrah Abraham, who took to Instagram Live to call Tyler (and the other 'Teen Mom' stars on OnlyFans—such as Jenelle Evans) hypocrites because they once shamed her for doing adult industry work.
Naturally, Jenelle (and her ever-lurking husband David Eason) had to weigh in on Farrah's commentary.
The Ashley is going to attempt to recap the events for you…
On Tuesday, Catelynn posted a link to Tyler's newly created OnlyFans account, directing her Instagram followers to shell out some cash to see Tyler's, um…bulge. (Yes, The Ashley shuddered while typing that sentence.)
On Tyler's cringefest-of-a-bio on OnlyFans, he tells everyone that, "This account is ran by my wife because she likes to show me off."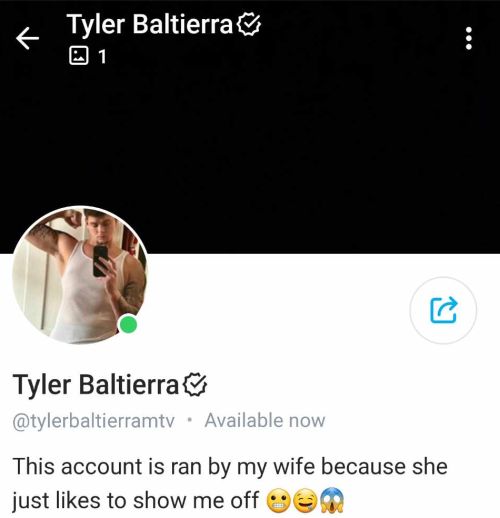 After the 'Teen Mom' twosome launched Ty's "Nudie Cutie" site, Tyler made it clear that Catelynn is pulling the strings.
"For anyone wondering though, I will NOT be in control of my account on there," Tyler posted on Instagram on Tuesday. "It will completely be in my wife's control. LOL. She's the boss, I'm just there to do as I'm told LMAO!"
(The Ashley will give you a moment to digest the thought of Cate being Ty's dominatrix telling him which photos of his love-worm to post.)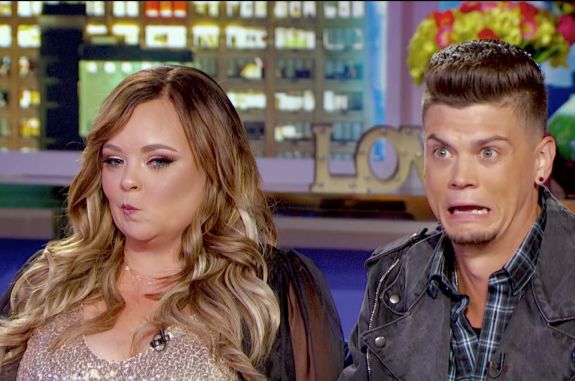 For those of you wanting to pay to see Tyler flex his muscles (both pectoral and "meat," assumingly) it will cost you a cool $30 a month.
Farrah– who has been showing off her Backdoor (and other body parts and, um, body functions) on OnlyFans and other adult sites for years— seemed surprised that Tyler would display himself on the pay site, given that she felt he criticized her when she banged her way into the adult industry back in 2013 when her first adult movie, Backdoor Teen Mom, was released.
Naturally, Farrah took to Instagram Live to blast Tyler, as well as other 'Teen Mom' stars who are now posting their privates for the world to see.
Farrah talks about TM OnlyFans pages and her "Wrongful firement"
by u/UncreativePersona in TeenMomOGandTeenMom2
"I have to say, aren't these the same 'Teen Moms' that said I was going into adult entertainment?" Farrah— who most certainly went into "adult entertainment" by doing whole p0rn films— said. "The funnier thing is, I never changed who I was."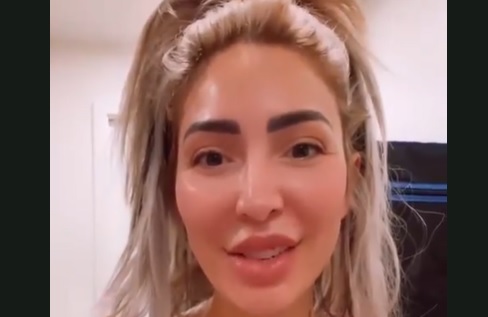 Farrah then claimed that it was unfair that she fired from 'Teen Mom OG' due to her adult industry activities, but these 'Teen Mom' stars aren't being let go. (What Farrah is saying about being fired is not exactly correct. As The Ashley has told you in the past, there were several contributing factors to The Big F getting the boot from the show. Although she was fired in part for refusing to turn down an adult gig that went against her contract for the show, she was was also let go for other reasons.)
"They're on the same platforms that I'm on, yet I'm the only one that got fired!" Farrah said.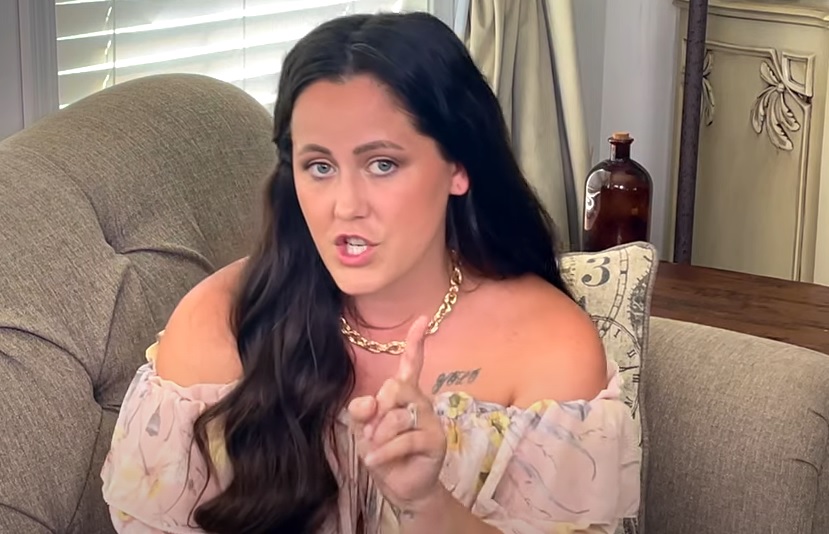 Farrah then busted out some of her signature legal "Farrah Speak."
"Maybe it was just politically charged for wrongful firement?" she said.
(And, no, that's not a typo. She actually said, "firement.")
"But in the end, we're all adults and we can be on adult platforms, right?" she said. "So I don't know. Maybe all of the 'Teen Moms' are switching to p0rn? And they're all p0rn stars? But I remain the same."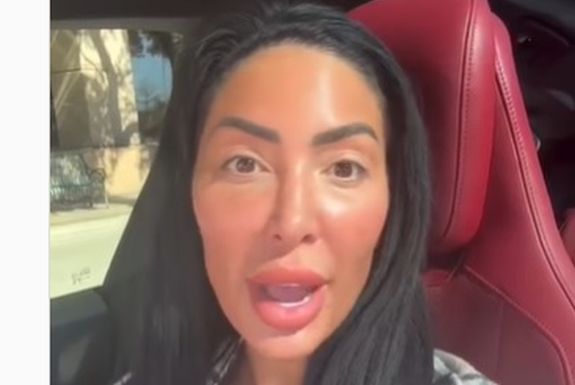 Farrah's message was seen by Tyler and Catelynn, as well as Jenelle and her husband David, all of whom responded to Farrah calling them hypocrites and p0rn stars.
Tyler and Catelynn made it clear that they are not doing p0rn, as Farrah stated.
"Y'all, we aren't doing anything sexual on OnlyFans LMAOOO!" Catelynn posted to Instagram Stories on Wednesday. "Please we got kids! I would never lol. But if you do want to see what we are posting then click the link! #NoShame #HotHusbandAlert."
Tyler doubled down, writing on Instagram Stories that what he's posting on OnlyFans is not even close to the level of adult entertainment Farrah has participated in.
"To be fair, I'm NOT doing p0rn at all!" Tyler wrote. "Cate is just sharing the stuff that I personally send to her lol! There's no sex involved or even videos on the page she's running. I didn't go to a p0rn production company, hire adult film stars & crew, have sex on camera, pretend that it was some 'leaked' personal footage, or make genital molds to sell.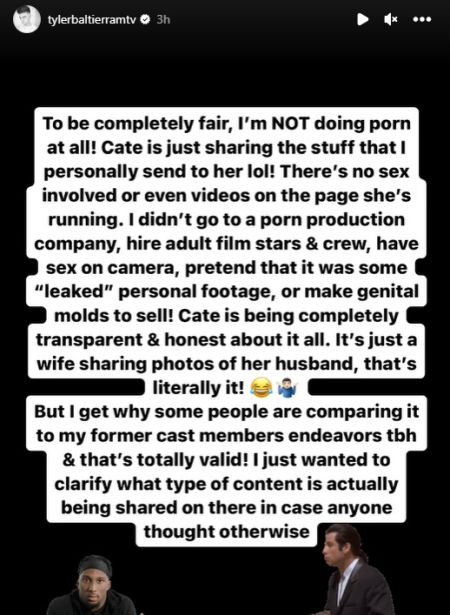 "Cate is being completely transparent & honest about it all," he continued. "It's just a wife sharing photos of her husband, that's literally it! But I get why some people are comparing it to my former cast member's endeavors TBH & that's totally valid! I just wanted to clarify what type of content is actually being shared on there in case anyone thought otherwise."
Jenelle also had a lot to say about Farrah spouting off. Jenelle— who recently admitted that a large portion of her income now comes from showing off the ol' "bush 'n' tush" on OnlyFans— posted to Twitter about Farrah's rant.
"Then we got [Farrah] over here talking s**t," Jenelle tweeted on Wednesday. "My God…talking about 'I haven't changed.' Girl you don't even look like the same person anymore, besides your horrible personality."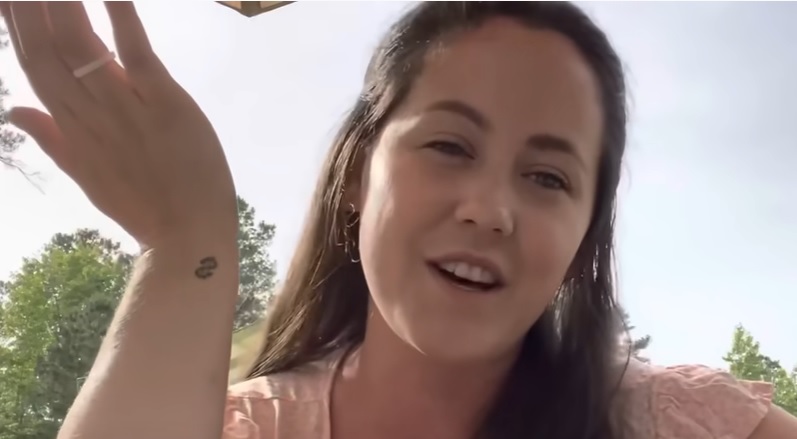 "You're right Farrah, you're still you…a straight up bish," Jenelle wrote on Facebook. "Acting like I didn't support her through being fired and even invited me to her birthday party and we went! She will always be another one to talk mad BS and never change."
Jenelle's hubby David took a break from working, studying, f**king raking to also weigh in.
"Not the backdoor booty queen comparing herself to people who are not relatable," David—who also had a short, yet horrifying stint on OnlyFans— wrote on Facebook on Wednesday.
None of the other 'Teen Mom' stars who are currently on OnlyFans— including Jade Cline, Briana DeJesus, Nathan Griffith and Brittany DeJesus—have responded to Farrah's comments yet.
RELATED STORY: Tyler Baltierra Fires Back After Fans Body-Shame Wife Catelynn Lowell; Tyler & Friend Sik World Joke About Their Alleged "Secret Relationship"
(Photos: MTV; OnlyFans, Instagram)