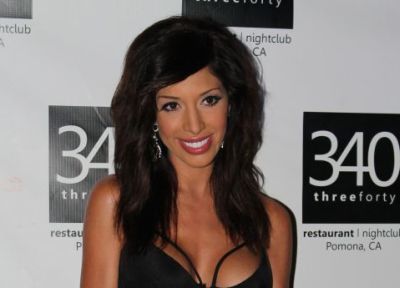 Teen Mom star Farrah Abraham says she is not a p0rn star—she simply starred in a p0rn movie and then released a line of adult toys that were molded from her very own lady parts. (Let's face it—who hasn't done that at some point in their lives?)
Anyway, Farrah celebrated the release of her toy line, which includes realistic plastic molds of her vajayjay and backdoor, on Friday night with a release party. The Ashley attended the event (click here to read her full play-by-play of that hot mess) and had the opportunity to ask Farrah the question a lot of her fans want to know: Why the hell did you do this?
"Because I am young, fun and 23," Farrah told The Ashley. "I felt like I would regret it if I missed this opportunity. So I figured, 'Why not?'"
The fact that plastic molds of her private parts were sitting on tables two feet from her during the interview didn't seem to bother Farrah whatsoever. In fact, she couldn't help but admire how wonderful her "love tunnels" looked up close. (Raise your hand if your stomach is churning as you read this!)
"Is it weird to see my body on display? No," she said. "It is weird to hold it though! But when I'm holding it, I just keep thinking, 'Damn, I look so good!'"
Let's let that sink it a bit…
Anyway, The Ashley was curious to find out what Farrah's parents, Michael Abraham and Debra Danielson, who were relatively conservative when fans saw them on 'Teen Mom', thought of Farrah's new adult toy venture.
"I think I've tuned them out a bit," Farrah responded. (She didn't tune them all the way out, however, as Michael was at home in Austin, Texas, watching Sophia while Farrah attended the party.)
Farrah, who told The Ashley that we can expect to see her on a VH-1 reality show very soon, said that she regrets nothing she's done over the last year or so, including the sex tape and the adult toy line.
"I have no regrets," she told The Ashley. "We all need to live our lives. Everybody at 23 has sex tapes, not everybody puts them out. But I would have regretted not taking this opportunity. And I think anyone put in the situation I was in would be smart enough to take this opportunity. They should never let anyone take advantage of them—ever."
To find out what Farrah thinks about her 'Teen Mom' co-stars, click here.