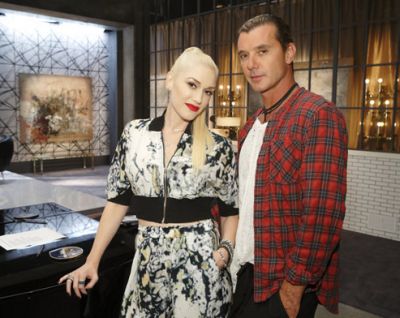 New coach Gwen Stefani decided to keep it in the family when choosing her team's adviser for the upcoming season of The Voice. Yahoo Music announced today that the No Doubt singer's husband, Gavin Rossdale, will serve as the Team Gwen adviser for the contestants that she mentors on the show.
Gavin, who heads the band Bush, will assist Gwen in coaching her contestants and helping them tweak their performances.
This is not the first time a 'Voice' coach has picked their spouse to be their team's adviser. Back in Season 2, coach Blake Shelton chose his wife, country singer Miranda Lambert, to advise his team. While Blake has not revealed who he will use as his team's adviser for the upcoming season, coach Adam Levine has said that he tapped legendary singer Stevie Nicks for Team Adam.
Gavin took to his Twitter account to express his excitement about joining his wife on her new show.
"This fall, honored to be part of #TheVoice w/ the lovely & talented @gwenstefani," he posted today.
In a new interview with Access Hollywood, Gavin talked what he hopes will come out of his helping his wife.
"The main thing, from my perspective, is just to make sure that Gwen is so good and excellent like all the other judges on the show," he said. "It's just sort of to not interrupt and to normally let her speak, let her do her thing and I'm just like a side thing."
Awwwww….
Gwen met Gavin in the late 1990s when No Doubt toured with Bush. They have been married since 2002 and have three boys together. While they have been married for nearly 12 years, they rarely perform or work together. Last year, Gwen surprised everyone when she joined her hubby on stage during Bush's set at LA radio station KROQ's Almost Acoustic Christmas event. (The resulting duet of Bush's "Glycerne" was amazing, just FYI.)
The Ashley is thrilled about this! To read The Ashley's account of Gwen's coaching style during the Blind Auditions, click here!
(Photo: Twitter)