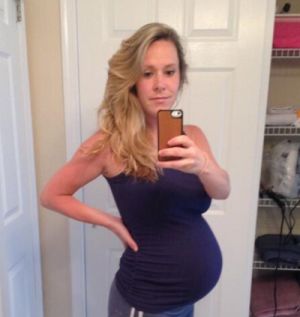 It's a boy for Paula Meronek, one of the longtime veterans of MTV's The Challenge! The reality star gave birth to a baby boy over the weekend. Paula, who married Jack Beckert in April, announced on her Twitter account on July 13 that her journey into motherhood had officially begun.
"#I'm a mommy," she tweeted.
She later told a Twitter follower that her son's name is Atlas.
Paula, who now goes by her married last name Beckert, announced her pregnancy back in February by posting a sonogram photo to her Instagram account. Obviously, due to her pregnancy, she did not participate in the most recent season of MTV's 'The Challenge', and has not said whether or not she plans to return to the show for additional seasons. She's participated in 10 seasons, and snagged her second career win on  "Rivals II."
Upon hearing the news, some of Paula's pals from 'The Challenge' congratulated her via The Twitter.
"So excited for my baby Girl @paulawalnutsMTV & her New BABY BOY! Congratulations My Paulita! Can't wait 2 pinch his cute lil cheeks," Camila Nakagawa wrote.
"A walnut just had a peanut! Congratulations to my girl @paulawalnutsMTV and her beautiful new baby Atlas Jackson! #MamaWalnuts," Johnny "Bananas" Devenanzio tweeted.
Congrats to Paula and her family!
(Photo: Twitter)