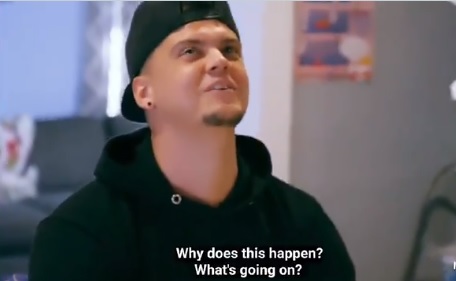 Tyler Baltierra defended his wife's honor after some of his Instagram fans used Tyler's newly buffed body as a reason to shame Catelynn Lowell into working out more.
On Sunday, the Teen Mom: The Next Chapter star took to social media to show off the progress he's made in his fitness journey over the last year, earning him lots of kudos from fans, as well as his wife Catelynn.
"I still have a long way to go until reaching my goals, but I like to post my progress as a reminder to myself of where I started, how far I've come, & why I keep putting in the work!" Tyler wrote in his thirst-trap photo caption.
While many fans took to the comment section to praise Tyler for the hard work he's been putting in at the gym, the shirtless selfies also garnered some hateful words directed at Cate, with one person suggesting that Cate go "get on that treadmill" and "get healthier" in order for her and Tyler's lifestyles to be "in sync."
Tyler responded with a lengthy comment defending his wife and their relationship, while also telling the body-shamers to "leave [Cate] alone" and stop comparing their "own individual journeys."
"Whoa hold up, absolutely NOT! She doesn't need a treadmill for her body to be desirable to me or for our lives to be in 'sync,' are you [for real] right now!?" Tyler wrote.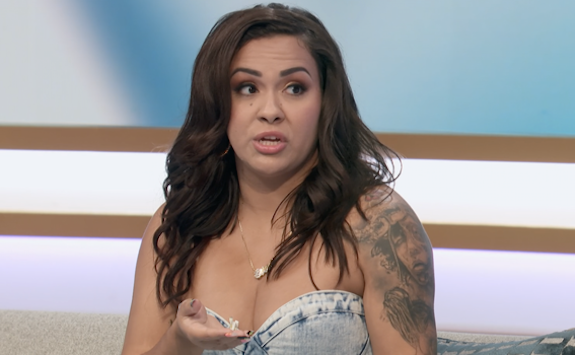 "That woman's body has brought 4 of my beautiful children into this world!" Tyler wrote in defense of Cate. "That body has been with me through everything! That body has fought through hell & back to be the woman & wife she is today!"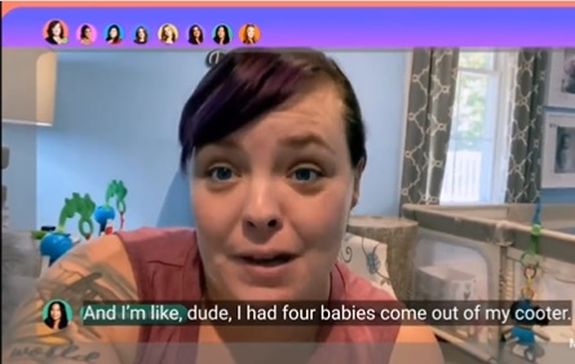 "That body has held & nurtured my children," he continued. "That body has even held me like a baby at times when I was at my breaking point…so DON'T YOU DARE tell my wife what she needs to do with her body … .
"We don't outgrow each other, we GROW WITH EACH OTHER, through every high and low!" Ty continued. "Her body is perfect TO ME and that's all that matters…."
Tyler proceeded to screenshot his response and share it to his Instagram Story, along with a message to all of his followers.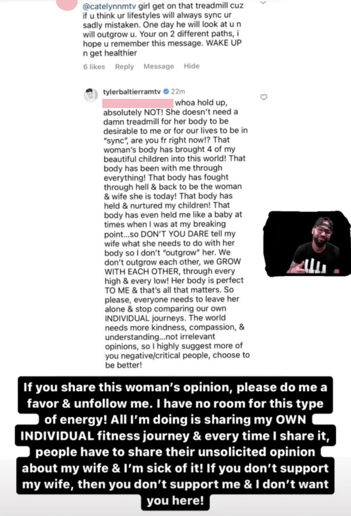 "If you share this woman's opinion, please do me a favor & unfollow me," he wrote on Instagram Stories. "I have no room for this type of energy! All I'm doing is sharing my OWN INDIVIDUAL fitness journey & every time I share it, people have to share their unsolicited opinion about my wife & I'm sick of it!
"If you don't support my wife, then you don't support me & I don't want you here," he continued.
Fans later applauded Tyler for speaking up for his wife; however an exchange between Tyler and the guy Cate's brother has claimed is Ty's rumored boyfriend had some criticizing the #GirlDad.
(As The Ashley previously told you, Cate's brother Nick alleged on Instagram Live last month amid a very public family feud that Tyler is in a secret relationship with a music artist in Arizona named Sik World–real name John.)
Sik World jumped into the comment section of Tyler's post on Monday to compliment Tyler's "gains," with both he and Tyler going on to make multiple jokes about the rumor of their secret relationship.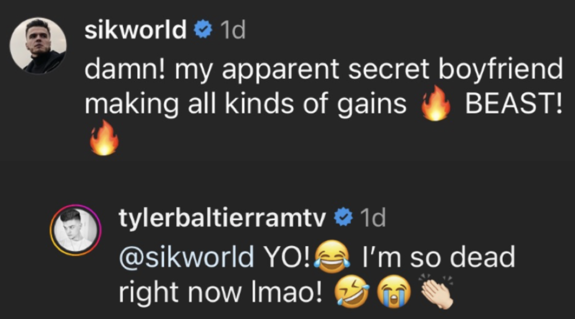 "Damn!" Sik World wrote. "My apparent secret boyfriend making all kinds of gains BEAST!"
"@sikworld YO! I'm so dead right now lmao!," Tyler replied.
Tyler and Sik World's banter didn't go over very well with a number of fans, with some accusing the two of actually being in a romantic relationship and others even speaking out in Cate's defense.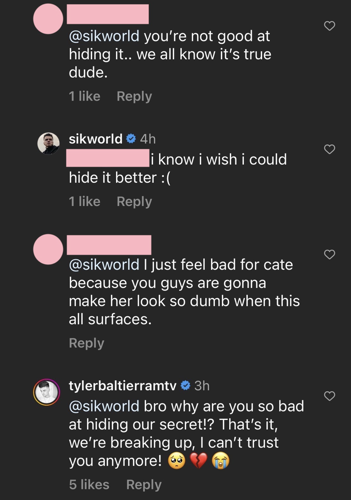 "I just feel bad for Cate because you guys are gonna make her look dumb when this all surfaces," one person wrote.
Still, Tyler and Sik World continued to make light of the rumors surrounding them, with the former calling out the latter for being "so bad at hiding our secret."
"That's it, we're breaking up, I can't trust you anymore!," Tyler told Sik World.
The friends ultimately exchanged comments insisting that they were being "sarcastic" about the whole thing, while acknowledging there would still be people who would take what they were saying seriously.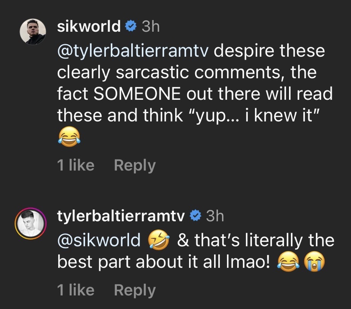 "@tylerbaltierramtv [despite] these clearly sarcastic comments, the fact SOMEONE out there will read these and think 'yup… I knew it'," Sik World wrote, to which Tyler replied, "@sikworld & that's literally the best part about it all lmao!"
RELATED STORY: More Info On Maci Bookout's "Health Crisis" That Will Be Revealed On 'Teen Mom: The Next Chapter'
(Photos: MTV; Instagram)