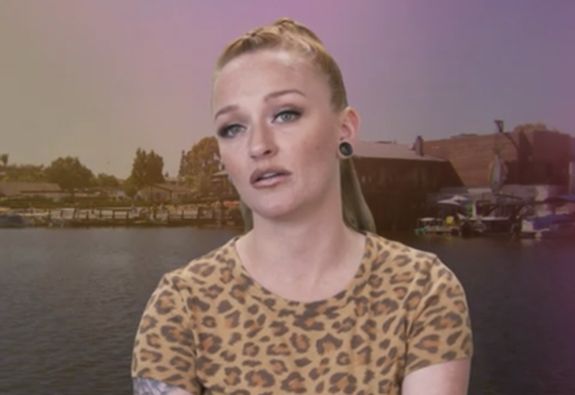 Maci Bookout was apparently in the middle of a "health crisis" while filming the currently-airing season of Teen Mom: The Next Chapter. Although the storylines previously released by MTV disclosed that Maci had been "busy dealing with a medical crisis," the storylines did not provide more details about what was going on.
Now, it's been revealed that Maci's "health crisis" is due to medical problems she believes are due to her breast implants. (The topic will be brought up on Wednesday's episode.)
This marks the first time that Maci has admitted to getting plastic surgery. Way back in March 2011, Maci turned up at Spring Break with her pals— and a noticeably larger bosom. When compared with her infamous "Beer Bonging Spring Break" photos from 2010, it was obvious that the 'Teen Mom' star got a boob job with her new 'Teen Mom' earnings, but Maci never admitted it.
View this post on Instagram
In July of 2011, Maci's then-'Teen Mom' co-star Farrah Abraham admitted to getting a boob job, and even filmed about it for Teen Mom. (Who could forget The Big F throwing a bag of frozen peas at her caretaker father Michael post-surgery?) Farrah discussed her surgery in a joint interview with Maci and Catelynn Lowell, but Maci stayed mum on her own boob job during the interview.
Later that year, Maci's friend reportedly confirmed Maci's surgery to a tabloid, stating that the then-19-year-old Maci went from an A-cup to a C-cup, but Maci never confirmed or denied her plastic surgery.
Back in 2012, The Ashley broke the news that the MTV higher-ups were getting increasingly upset after more and more girls from the 'Teen Mom' shows were using their MTV earnings to get boob jobs. After Teen Mom 2 star Jenelle Evans went under the knife in 2012, producers asked the girls to refrain from getting any more plastic surgery for a set period of time.
Most of the 'Teen Mom' girls would go on to get their breast size enhanced, with some— like Kail Lowry, Cheyenne Floyd and Briana DeJesus— being open about it and having their procedures filmed. Maci has always declined to discuss her surgery, which makes this 'Next Chapter' storyline even more surprising.
View this post on Instagram
It is unknown at this time if Maci's health issues are stemming from her now 12-year-old breast implants.
'Teen Mom: The Next Chapter' airs Wednesdays on MTV.
RELATED STORY: Maci Bookout Talks About Communicating With Ex Ryan Edwards While He's Been in Jail & Praises Ryan for Getting Closer to Son Bentley Despite Being Behind Bars
(Photos: MTV; Instagram)