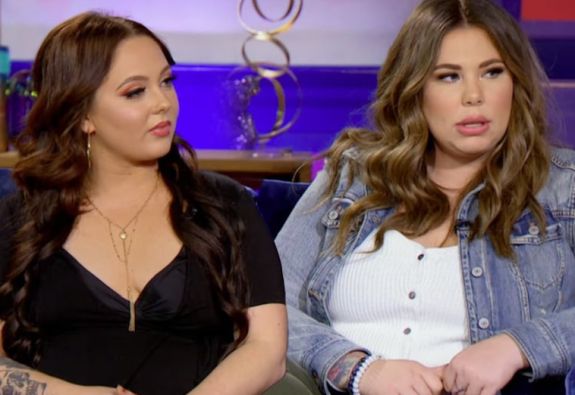 Add two more Teen Mom stars to the heap of cast members who are now on OnlyFans!
Teen Mom 2 stars Kail Lowry and Jade Cline announced this week that they have joined the subscription social media site, which is typically (but not always) used to post sexy time content.
This comes about a month or so after Teen Mom: Young and Pregnant stars Malorie Beaver, Kayla Sessler and Kiaya Elliott all announced that they, too, are offering private pics and videos on the site.
During the latest episode of her Coffee Convos podcast, Kail explained what she plans to post on her OnlyFans, which she is currently charging $20 a month to subscribe to.
"I made an OnlyFans," she told her co-host Lindsie Chrisley. "It's like a private Instagram that people pay for…you make money on it…Someone I know, she got paid $100 for her feet pics. I would definitely send feet pics. I for sure am gonna send feet pics."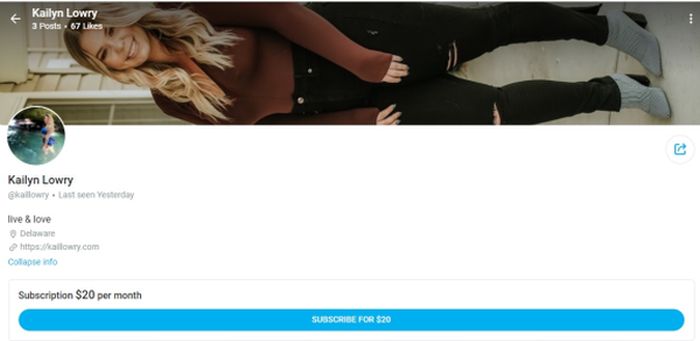 Kail did not state whether or not she plans to post nude pics to the site as well. (Her current bio pic is one of her fully clothed.) However, Kail said that, before she posts any photos to her OnlyFans, she is going to send them to Lindsie and her other friends for their approval. After her "Iceland-stand-naked-by-a-horse" maternity photo fail earlier this year, Kail said she doesn't want to risk a repeat of that horrorfest.
"I never want another horse pic situation to happen again," she said. "I never want a photographer to give me this idea and then tell me it's amazing and have me post it. And I'm trusting this photographer, and I never want to do that again. Now, I'm going to send my pictures to my best friends and get their approval— because I don't think they would lie to me— before I post."
Lindsie, for whatever reason, encouraged Kail to get some "hoochie heels" to wear in her feet photos, but Kail argued that she "walks like a dinosaur in heels."
"I look like a f**king T-rex!" she said.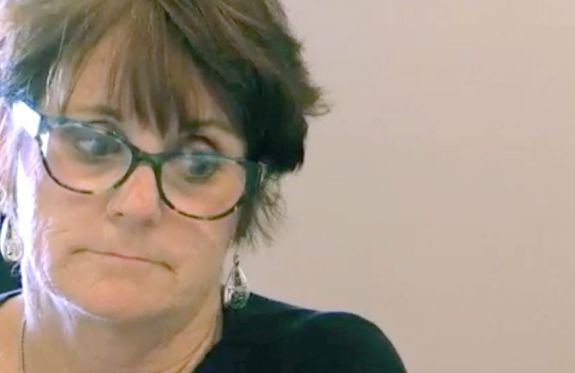 Jade's OnlyFans doesn't appear to have any "sexy time" content at all. In fact, the licensed cosmetologist said she will be using her page to offer classes related to hair care.
"I'm going to be posting videos of hair color courses, balayage courses, hair extension courses, etc.," Jade's bio reads.
On Tuesday, she wrote, "My first course will be posted soon! I am doing an installation on tape-in extensions! I will be discussing all the do's and dont's! Showing a video of the install, before/after, etc!"
Jade is offering her subscriptions for free currently.

As The Ashley previously reported, Kayla Sessler has stated that she will not be posting nudes to her OnlyFans; however, Kiaya's and Malorie's pages do appear to contain sexy time content.
None of the girls' pages can compete with that of the Backdoor Teen Mom herself, Farrah Abraham. As The Ashley oh-so-disturbingly told you earlier this week, Farrah is now currently offering a menu of make-you-wanna-gauge-your-own-eyes-out-after-watching videos and photos to accommodate pervs on any budget. For those willing to shell out 100 smackers, Farrah will send over a "Number 2 Bathroom" video or a "Golden Shower" video. (Click here to see the full list of creepy sexual offerings by Farrah.)
RELATED STORY: Former & Current Reality TV Stars Turning to OnlyFans to Sell Adult Content to Subscribers: A Look at the New Trend