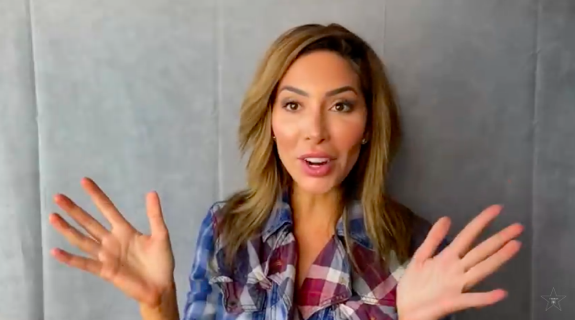 From squashing baby mama drama to squashing any of your remaining dignity, the stars of the 'Teen Mom' franchise (both past and present) have been keeping themselves busy lately!
In an effort to get you up-to-date on the latest Teen Mom OG and Teen Mom 2 news, The Ashley brings you the Teen Mom News Pile. Here are some of the major (and minor but interesting) 'Teen Mom'-related things that have happened over the last week or so…
Chris Lopez actually praised his baby mama Kail Lowry.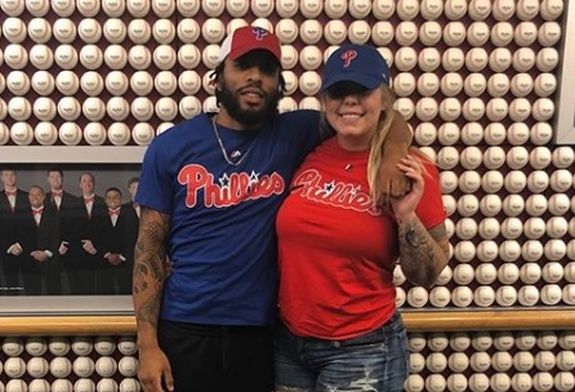 Kail's baby daddy, Chris, had surprisingly nice things to say about the 'Teen Mom 2' star in an Instagram Live session done on Monday. As fans know, the pair— who share son Lux and newborn Creed— have been swooped up in an online fighting/PFA filing/Internet bashing tornado for years. However, it appears that the birth of Creed has helped Kail and Chris turn over a more positive leaf.
"Let's talk about the positive stuff," Chris said. "I'm gonna talk about how great that girl [Kail] is. She's a very tremendous girl. I was very lucky to meet that girl and have her in my life. She gave birth to my children. That's the positive. For so long I always engaged in negative talk. All I've ever done is engage in negative talk and never spoke on the positive s**t. All y'all know is the negative but there is so much positive…"
Chris even expressed regret about some of the mean things he's said about Kail over the years.
"I can't take back what I said, I said some f**ked up s**t, [Kail] said some f**cked up s**t but it's all love on this side…" Chris said before praising Kail's parenting skills.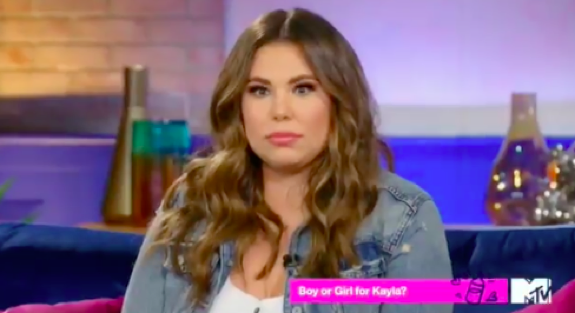 "My boys are taken care of, and my boys got older brothers to look up to. My sons are really in good hands," he said. "My kids, just by their brothers, they good. They got their brothers, they're always gonna look out for each other. That's a fact.
"She's a great mom," he said of Kail. "She'd do whatever for her kids. I know all mothers do everything they can for their kids."
During the Live session, Chris talked about how he is struggling with depression, and how fathers are often not checked up on after their child is born.
"I have depression.. it's not something I hide anymore. I've been through a lot man," Chris said, later adding, "The mother faces postpartum depression but what about the men? I feel like men don't even get checked on or get any concern as they should. Everyone is always worried about the women and you should because those are the ones who are the mothers of your children. The men really got to sit there and bite down and take the s**t and cater to the needs of the mother, and they could be dying on the inside."
He also confirmed that, despite not getting a say in what his son was named, he loves Creed's name.
"Creed's name is dope. Creed Romello? Dope. My boy's Lolo. That's the nickname I gave to my kid. I also gave Lux a nickname."
Farrah Abraham takes her career to the toilet…literally.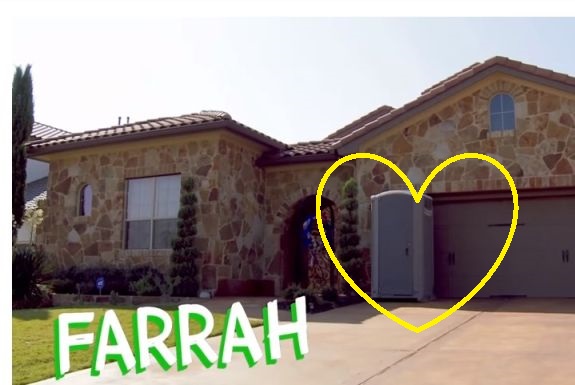 (Warning: The Ashley advises you not to eat while reading the following story.)
Just when you thought Farrah Abraham couldn't stoop any lower…here we are.
The Backdoor Teen Mom– who has been active on OnlyFans for a while— released a new "menu" of sexy time services that are available to her subscribers who are willing to shell out cash to see Farrah do a variety of different sexual things. While many of the offerings are the boob and butt shots typical of OnlyFans content creators, Farrah has upped her game recently, and is now offering several very disturbing offerings.
One of the more vomit-inducing items on the "Farrah Fun Menu" includes what Farrah calls a "Number 2 Bathroom" video. That horrorfest— which, yes, it's exactly what you're thinking— will set you back $100 (in addition to the cost of the therapy you'll undoubtedly need after viewing it). Of course, there's no confirmation as to whether the video will be shot inside a driveway Porta-Potty or a regular bathroom.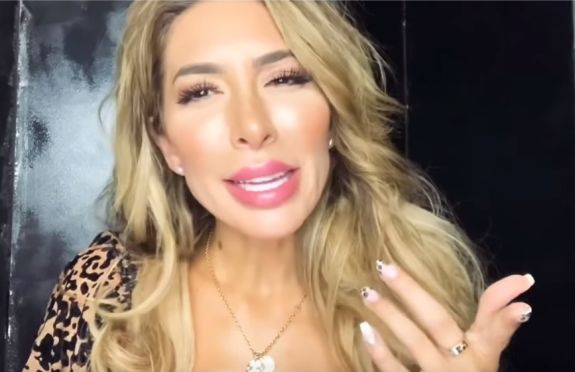 Another "straight from the toilet" offering includes a Golden Shower video for $100. (Again, yes it's exactly what it sounds like…) If you're "Backdooring on a budget," you can purchase a twerk video for $35 or a photo of Farrah in a G-string for 20 bucks.
Also…there's no need to comment that The Ashley has hit a new low for reporting on this. She already knows this, and will be punishing herself by listening to Farrah's musical offerings for the next 24 hours.
Catelynn Lowell reveals scary details about their daughter's former daycare.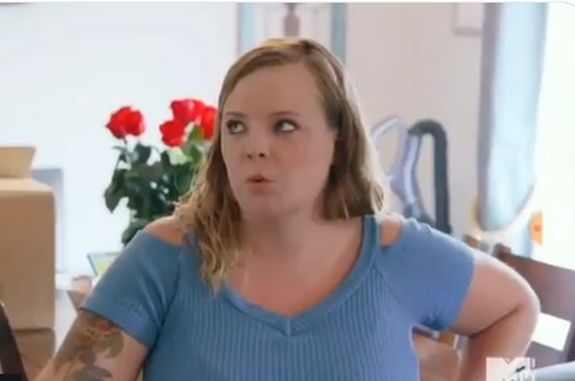 Catelynn took to social media late last week to expose Cozy Corner Child Care Center in Kimball, Michigan, after discovering the facility, which her daughter Nova attended in 2018, is connected to a registered sex offender.
"I am ABSOLUTELY disgusted!!!" Catelynn wrote on Instagram. "PLEASE if you have kids that go here PLEASE remove them!!!! #saveourchildren."
Catelynn's post included a screenshot of facility reviews, as well as a screenshot of registered sex offender Tim Vanbuskirk, the husband of facility owner, Chris Vanbuskirk. The Michigan Public Sex Offender Registry states that Tim was registered in 1994 for one charge of "criminal sexual conduct-fourth degree (Force or Coercion) (attempted)."
Catelynn opened up about the troubling discovery in an interview with CelebMagazine.com, revealing she was never informed of Tim's past upon meeting with Chris back in 2018. She noted the facility had "a really good star rating" and "all seemed well" at the time.
"I found out three days ago that [Chris'] husband was on the sex offenders list for doing something to [a relative]," Catelynn said, adding that Chris never mentioned her husband being a registered sex offender.
"She…wants to hide this," Catelynn said.
"Thank GOD Nova was only there a few months," she continued. "Tonight I showed Nova a picture of Chris' husband, Tim, asking if she had ever seen this man and she told me no. I asked her five different times … because what if he touched my child? Because it all came out how he's been at the daycare and has also taken kids by himself on their 'nature trail.'"
Catelynn encouraged parents to "do extra checking" when looking into daycare or other childcare programs.
"Do your due diligence when looking for childcare for your children," she added. "Run background checks on them. Talk to some workers that work there. Find other parents of kids that go there and talk to those parents. Just check and double-check. You can never be too safe when it comes to your children."
You can hear Catelynn talk more about the Cozy Corner incident below.
And finally….this…
Prepare to ask yourself: "What in the unholy swamp water is THIS?!"
It was a ding-dang wet 'n' wild hoedown on The Land this weekend, as Jenelle attempted to dance in the rain and complete the "Wap Challenge" on TikTok. From the rain-soaked jeans (which aren't exactly dancin' pants), to the failed cartwheel/split at the end, Jenelle's TikTok is truly the gift that keeps on giving…
View this post on Instagram
To catch up on more of the latest 'Teen Mom' news, click here!
(Photos: MTV; Instagram; YouTube)