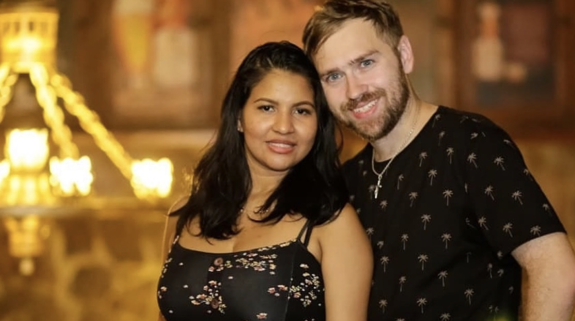 The recent drama between 90 Day Fiancé stars Paul and Karine Staehle has earned the estranged couple matching restraining orders against one another.
In Touch Weekly reports that a judge approved both protective orders, requiring Paul and Karine to remain 500 feet away from each other. Karine's restraining order against Paul was granted July 31 and Paul's restraining order against Karine was granted one day later. The couple's son, 17-month-old son Pierre, is protected under each.
Per the order, Paul is restrained from having contact with his son; however, both parents have been granted temporary custody. A judge will reportedly determine which parent will have permanent legal and physical custody of Pierre at a later date.
In case you missed Paul and Karine's Instagram showdown earlier this month, allow The Ashley to summarize what happened for you…
On July 30, Paul and Karine went from documenting their love story on TLC to documenting their fight on Instagram Live (via Paul), resulting in the cops being called twice. The dispute between the two allegedly began after Paul caught Karine speaking with a Brazilian attorney about child support and divorce.
Following their explosive viral fight, Karine left with Pierre and filed a restraining order accusing Paul of abuse. In the police report obtained by In Touch Weekly, Karine claimed Paul pushed her to the floor on multiple occasions, was withholding her green card and other important documents from her, monitoring her phone and not allowing her to "leave the house." Paul denied these claims.
In the filing for his own restraining order, Paul accused Karine of putting broken glass in his food and of assaulting him. He said a security camera in their home captured the altercation and would prove his innocence. He also claimed Karine went "missing" with Pierre after their altercation; however, Karine denied this on August 2.
"I want you all to know that me and Pierre are doing well now," she wrote on her Instagram Story. "All this past days I had a lot going on. As the media showed, I had issues where the police was called because I feared for my life and my son's life which led me to ask for help and ultimately be rescued from an environment that no longer was healthy for none of us involved in the situation."
Karine went on to reveal she was "getting the best help" she could, and thanked those showing her their support.
"It [has] been a big part of my recovery," she continued. "Relationships are hard and sometimes it just can't be fixed anymore. I need this time to organize my thoughts, work on myself and care for my son after everything we have been through in the last year and a half."
Paul has since shared his regrets about taking his marital problems public, while also hinting at Karine being pregnant with the couple's second child.
"I never want to date or remarry to ever feel this pain again," he added. "To not be a part of your children's life, born and unborn, is beyond painful."
Last week, Paul gave followers a tour of his home, which some considered an odd move, or even a tactic for Paul to eventually be granted full custody of his children.
"So let me guess…you are seeking full custody and you need to prove to the courts that your home would be in the best interest of the minor child," one comment read. "Unless you can prove your wife in an IV drug user, with your criminal background, I'm pretty sure that baby is staying with the mama."
"Just because you show the things you got Karine doesn't mean you're not abusive," another wrote. "You're more worried about social media.. you always been a sketchy guy with an anger problem."
Meanwhile, Karine recently shared a phone number for anyone needing to escape an unsafe situation at home.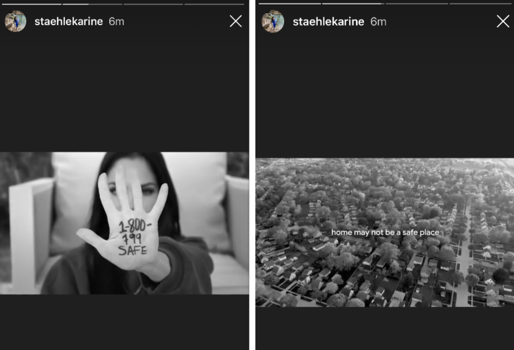 Meanwhile, Paul has stated that he is taking a break from social media for the time being.
Stay tuned…this saga is most likely far from over…
RELATED STORY: "90 Day Fiancé" Star Nicole Nafziger Finally Returns to the U.S. (and Her Daughter) After Living in Morocco for 5 Months with Fiancé Azan Tefou
(Photos: Instagram)