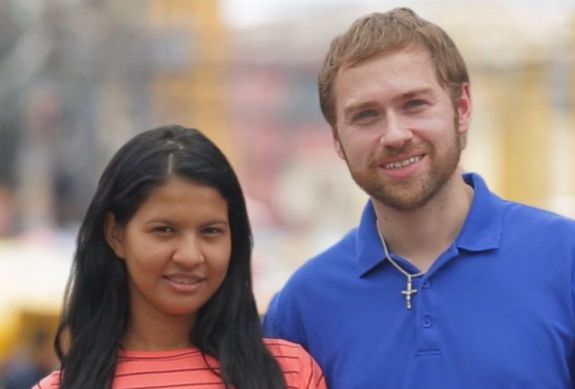 Paul and Karine Staehle of 90 Day Fiancé continue to be equal parts confusing and controversial, most recently after a video posted online appeared to show Karine abusing Paul in front of their eldest son, 2-year-old Pierre.
In the concerning clip, In Touch reports, Karine appears to grab Paul by the hair before pinning him to a couch by his neck, as their son looked on in the room. Though neither Karine nor Paul have directly commented on the video, the former posted and later deleted a statement seemingly responding to the rumors.
"Do you know when you've tried everything? And when I say everything, it's everything you can imagine and then some," Karine's post stated, according to the screenshot obtained by "90 Day Fiance" blogger John Yates. "The night before I spent awake and reflecting on everything I've been through and many things, it was for the love of my children and it will always be for them and that will never change. I woke up determined, asked for a divorce, that's right, divorce. [Now] what will happen to me, I don't know but God knows. At the moment, I just want the lap of my family and especially my mother, to go back to my house and start my life over … I'll be back another day to talk to you … From now on I'm going to vent and say everything … Thank you in advance for your support."
This, of course, is not the first time Paul and Karine's relationship has allegedly turned physical. The cops were called to the couple's home on more than one occasion last summer and the fights the pair engaged in ultimately led both to file a restraining order against the other. (Those restraining orders were dropped in October 2020.)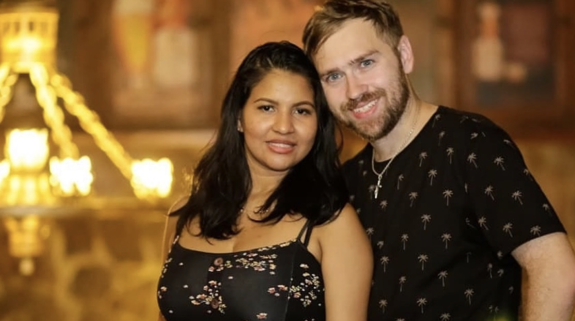 The "90 Day" alums have been involved in many other controversies over the last year, including back in December 2020 when Paul stated during an interview that Karine is allowed to go out with other men, as long as Paul does a background check on the individuals first. Paul and Karine went on to welcome their second son Ethan in February of this year, though Paul questioned the child's paternity and even promised to livestream the paternity test results on his and Karine's OnlyFans account.
Another odd incident happened in August when Paul took to Instagram to post the results of nearly a dozen STD tests.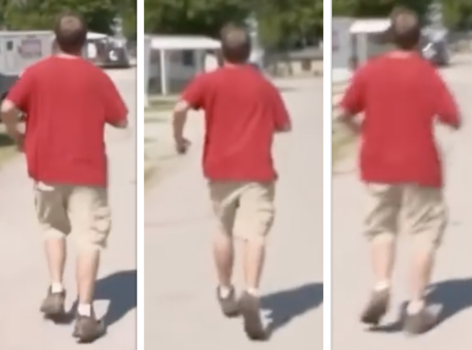 Never a dull moment with these two, though they really ought to give it a try.
UPDATE:
Karine took to Instagram on Monday claiming that what was shown in the video was misinterpreted and not shown in full. (Click here to see Karine's post, shared by John Yates.) Karine later followed up her video with a post (in English) telling her version of what happened.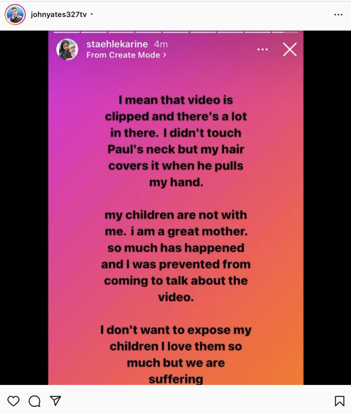 "I mean that video is clipped and there's a lot in there," she wrote. I didn't touch Paul's neck but my hair covers it when he pulls my hand. My children are not with me. I am a great mother. So much has happened and I was prevented from coming to talk about the video.
"I don't want to expose my children I love them so much but we are suffering," she added.
RELATED STORY: "90 Day Fiance" Star Tarik Myers Apologizes to Wife Hazel Cagalitan Amid Split; Hazel Raises Funds for Her "Mental Health & Lawyer" After Accusing Tarik of Abuse
(Photos: TLC; Instagram)