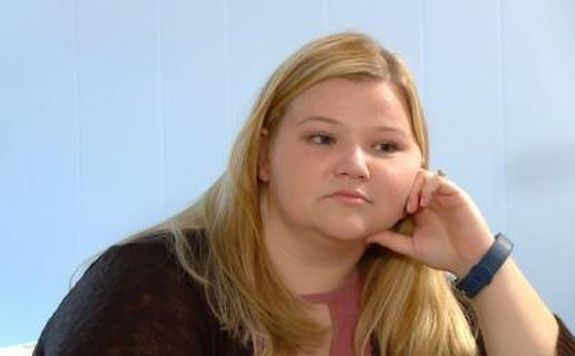 After a five-month stay in Morocco amid the global COVID-19 pandemic, 90 Day Fiancé star Nicole Nafziger has finally said her goodbyes to fiancé Azan Tefou and returned home to the United States. She touched down in Florida on Monday after first flying into New York City.
Nicole left her home in Florida on March 11, right as the U.S. began issuing warnings against international travel due to the C0VID-19 pandemic. At the time her decision drew criticism from "90 Day Fiance" fans for not taking heed to pandemic concerns and for "abandoning" her young daughter May.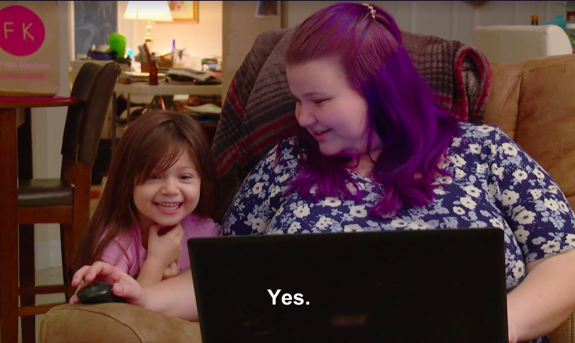 For months, critics (and even other "90 Day Fiance" cast members) have continued to slam Nicole online for not returning home to the U.S. sooner, while others doubted that she ever traveled to Morocco to begin with – a theory Nicole denied last month. Nicole went on to tell her followers she was "going back to [her] daughter" soon.
As The Ashley previously told you, though, Nicole may not have had a choice in the matter. It's been reported that non-resident foreigners who were living in Morocco and were unable to leave within the normal 90-day limit due to the pandemic had to leave the country by Monday, August 10 or face penalties. (Nicole stayed until the last minute!)
On Sunday, Nicole revealed on Instagram that she was finally doing just that, as she said farewell to her fiancé and Morocco and prepared to return home.
"I'm so happy I got to see you baby," Nicole captioned a photo of herself and Azan. "Hopefully next time I won't have to leave and we'll be a family with May."
Nicole went on to provide proof document her journey back to the U.S., which included an overnight stay in New York.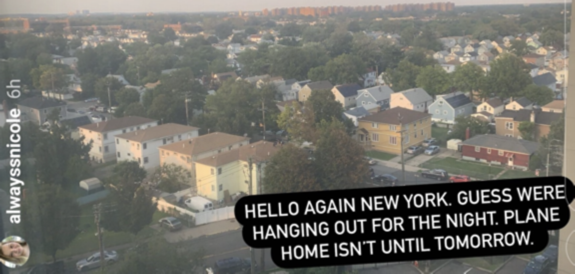 "Hello again New York," Nicole wrote on her Instagram Story. "Guess [we're] hanging out for the night. Plane home isn't until tomorrow."
Nicole included some followup posts the next day leading up to the time she boarded her flight to Florida.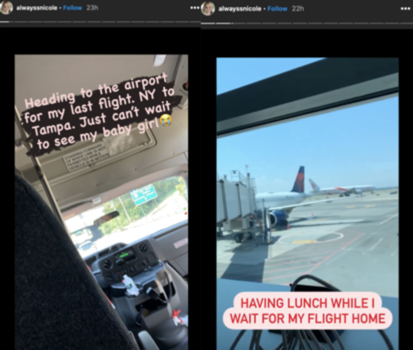 "Heading to the airport for my last flight," she wrote. "NY to Tampa. Just can't wait to see my baby girl."
After reuniting with May, Nicole shared photos and videos of the two of them during their ride home from the airport.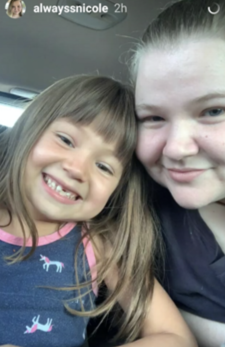 Nicole also showed off an "I Heart Morocco" souvenir t-shirt she brought home for May.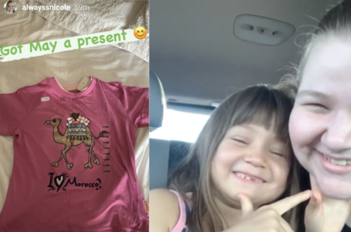 (Apparently the airport gift shop was fresh out of "My Mom Left Me For 5 Months To Hang Out With A Man Who Won't Marry Her & All I Got Was This T-Shirt" swag.)
RELATED STORY: "90 Day Fiance" Stars Robert Springs & Anny Francisco Welcome First Child Together: See the First Baby Photo
(Photos: TLC; Instagram)