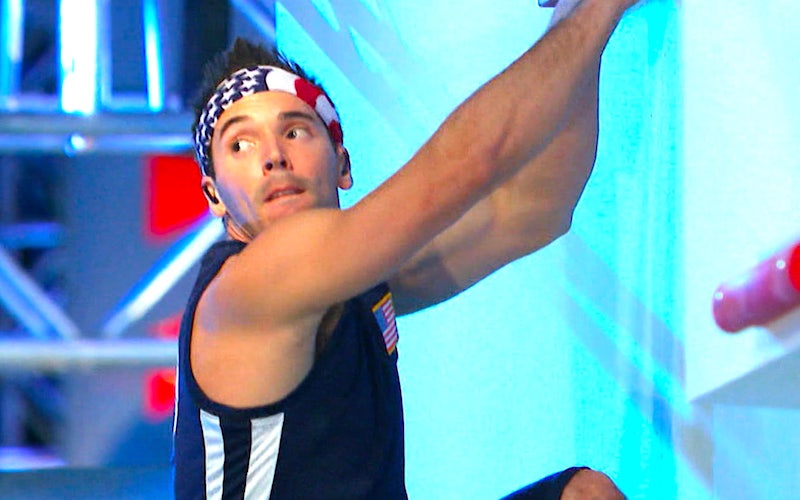 Note from The Ashley: The details below may be disturbing to some readers.
The American Ninja Warrior community has been left reeling following the arrest of "All-Star" contestant Drew Drechsel. Drew— whose nickname is "The Real-Life Ninja"— was arrested last week in Florida and charged with four counts of child sex offenses, the Department of Justice U.S. Attorney's Office District of New Jersey announced in a press release on August 4.
Drew, who participated in the soon-to-be-aired "All-Stars" season of the show and had previously won the show's $1 million prize, will be edited out of future episodes, according to the show's production company and NBC.
The press release gave details of Drew's alleged crimes.
"Drechsel sought to have sex with a minor girl and traveled to New Jersey with the intent to engage in illicit sexual conduct with that minor," the press release reads. "He also enticed and coerced a minor to travel to Connecticut to engage in illicit sexual conduct and engaged in online sexual communications with a minor and induced her to manufacture sexually explicit images of herself and send them to Drechsel."
The victim told investigators she met Drew when she was 14 while attending a 2014 event featuring 'American Ninja Warrior' contestants. The two exchanged phone numbers and began communicating via text, according to the criminal complaint, which details the abusive sexual relationship Drew is alleged to have had with the minor beginning when she was 15. (Trigger Warning: The criminal complaint linked above contains graphic descriptions of sexual assault.)
'American Ninja Warrior' producers A. Smith & Co. and NBCUniversal issued a brief joint statement on August 5 in response to the charges, announcing that the show would be cutting ties with Drew and editing him out of future Season 12 episodes.
"We are shocked and disturbed to learn about the charges alleged against Drew Drechsel," the statement, shared on the fan blog American Ninja Warrior Nation, reads. "'American Ninja Warrior' is a family show that has inspired countless people, and we will not let the actions of one contestant tarnish the hard work and amazing stories of so many. Moving forward, the 'American Ninja Warrior' brand will sever all ties with Mr. Drechsel, including his appearance on future seasons of the show."
'American Ninja Warrior' contestant and coach Derek Mathews released his own long statement on the arrest on Instagram on August 6 (American Ninja Warrior Nation also has the statement in full).
On August 4, Drew's lawyer, Frank J. Riccio II, released his own statement about the case on Twitter — and misspelled his client's name.
Regarding Drew Dreschel: pic.twitter.com/xthvEOO3Hi

— Frank J. Riccio II (@RiccioLaw) August 4, 2020
"Statement on behalf of Drew Dreschel: I am representing Drew Dreschel with respect to the criminal charges filed against him. Mr. Dreschel is presumed innocent of the charges and that presumption will remain throughout the pendency of his case. He intends on entering a 'not guilty' please. It is respectfully requested that you respect the privacy of Mr. Dreschel and his family. All questions relating to this case can be directed to my attention."
The following day, the lawyer posted a link to a Fox News article about the arrest on his Twitter page, with no additional comment.
'American Ninja Warrior' champ Drew Drechsel charged with child sex crimes: prosecutors | Fox News https://t.co/2YuzdLYnaC

— Frank J. Riccio II (@RiccioLaw) August 5, 2020
If found guilty, Drew could face decades in prison, according the Justice Department press release.
"The count of use of interstate commerce to entice carries a maximum sentence of life in prison; the count of enticement to travel for illicit sexual conduct carries a maximum sentence of 20 years in prison; the count of travel with the intent to engage in illicit sexual conduct carries a maximum sentence of 30 years in prison; and the count of manufacture of child pornography carries a minimum of 15 years in prison and a maximum of 30 years in prison," the press release reads. "All of the counts also carry a maximum fine of $250,000 per count."
According to TMZ, Drew is still in custody, due to a judge ruling him to be a flight risk and danger to the community. He will be transferred by the U.S. Marshals from Florida to New Jersey, where he's set to stand trial.
NBC has not yet announce the premiere date for 'American Ninja Warrior' Season 12, but the season is expected to air in the fall. The season was reportedly filmed last month, after filming was delayed due to the COVID-19 pandemic.
(Photos: NBC, Twitter, Instagram)