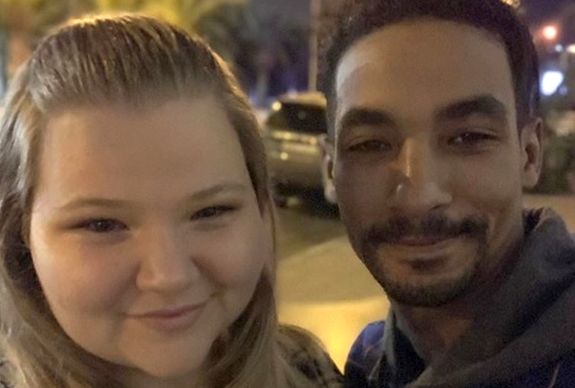 Nicole Nafziger is stuck in Morocco amidst a global pandemic, but the former 90 Day Fiance star doesn't seem to mind. Nicole, who left the United States on March 11— despite the fact that countries around the world had already started imposing travel restrictions—to visit her fiancé, Azan Tefou in Morocco.
Nicole was in Morocco when the country's government announced emergency measures to control the spread of C0VID-19 within the country. The measures included a strict nighttime curfew, restricted movement during the day and— most importantly—all regularly scheduled commercial flights to and from Morocco to be suspended indefinitely. This, of course, means Nicole is essentially "trapped" in Morocco.
However, Nicole seemed to be enjoying the fact that she was stuck in a foreign land with Azan, even though it means being separated from her young daughter, May, for an unknown period of time.
"I never want to leave your side my love," Nicole captioned a pic of her and Azan posted to Instagram this week.
Her Instagram followers did not hold back in their responses to Nicole, blasting her in the comment section of the post.
"Never leave his side? What about May? Stay by your kids side before any man! A real mother would never leave her child behind when there is a virus killing people! She knew this and still hopped on the plane," one person wrote in the comment section of the photo, which Nicole later stated was taken on March 14.
"Translation – 'I hope I get trapped in Morocco and pawn my kid off on my mom forever and ever,'" one person commented.
"Go home to your daughter!" another person wrote. "We have a pandemic going on here! She needs you more than that guy," another wrote.
"Real mature," someone else wrote. "There was a pandemic happening when she left."
On Monday, she took to Instagram Stories to let her fans know that she is OK…although the global pandemic has infringed on her time with Azan.
"Sucks everything is closed. I'm still in Morocco for everyone that wants to know. But I'm fine. We're good," she captioned a photo of herself and Azan.
As of press time, there are still no flights going in or out of Morocco, and Nicole's daughter is still in the United States being cared for by Nicole's parents.
This is the third time Nicole has gone to Morocco to visit Azan. She stayed six weeks the first time and 90 days the second time. As fans of the show know, Azan has had "trouble" getting a visa to come to the United States to marry Nicole. During their time on "90 Day Fiance," Nicole and Azan were all set to wed in Morocco, but a mysterious last-minute problem with the paperwork prevented that from happening.
In the three years they have been together, Nicole and Azan have called off their wedding twice. Before leaving for the visit earlier this month, it had been over two years since Nicole and Azan had seen each other.
RELATED STORY: Safety Concerns, Casting & Crossing the Line with the Couples: Network Exec. Reveals Behind the Scene Details of "90 Day Fiancé"
(Photos: Instagram)