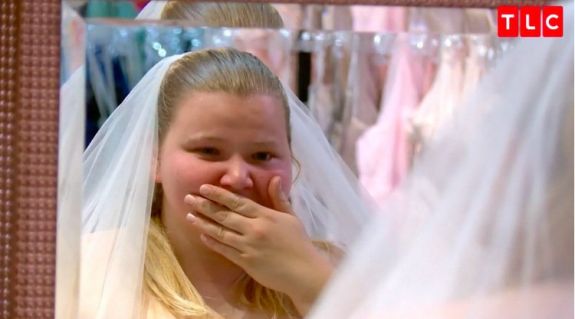 Fans of 90 Day Fiance: Happily Ever After? have been watching as Nicole Nafziger plots to go to Morocco to marry the mooch man of her dreams, but it looks like wedding bells did not ring earlier this year for the geographically challenged couple.
Nicole's stepfather Joe Fouraker (who has been featured on the show) told Radar Online that Nicole and Azan called off their wedding, and have yet to tie the knot.
"They said the timing wasn't right," Joe told the site.
Joe and Nicole's mother Robbalee made no effort to hide the fact that they did not want Nicole to travel to Morroco to marry Azan, whom they feel has been taking advantage of Nicole. Although Joe and Robbalee (and pretty much everyone who watches the show) are ecstatic that the wedding has been cancelled, this might not be the end for the couple.
"Is she going back to get married? I don't know," Joe said. "She still talks to him."
During the third season of "Happily Ever After?" viewers have watched as Nicole decided to get a visa and go to Morocco to marry Azan since his visa to come to the United States was denied.
Joe told Radar that Nicole did go to Morocco to be with Azan, but she did not get hitched. After staying in Morocco for six months, Joe said Nicole had to return to Florida because her visa ran out.
"She is now living with her sister in a mobile home," Joe said. "Her daughter May is with her."
On the last episode of "90 Day Fiance: Happily Ever After?" Azan was allegedly caught cheating on Nicole. She became aware of an audio recording of Azan telling another woman, "I want to kiss you right now" and "the kiss was good," among other things. On the episode, Azan denied that he cheated, and argued that he only said those things because he had been drinking.
"He had an explanation and said, 'That was before I met you,'" Joe told Radar. "She believed him. She wants to believe the best in people. She isn't mature enough to understand people will take advantage of her. She's a foolish young lady."
Nicole's stepfather suspects that Nicole will keep trying to marry Azan.
"I think she still intends to go back [to Morocco]," Joe said. "The wedding dress is still there."
Nicole has not made any direct comments about her relationship status. She has, however, been posting dramatic memes to her social media accounts. Last week, she posted a message to nay-sayers on Instagram.
"My life. My choices. My mistakes. My lessons. Not your business," Nicole wrote.
Earlier this week, she posted a meme insinuating that viewers don't know the real Nicole.
Nicole and Azan remain the longest "engaged" couple in this franchise. Their relationship continues to play out on the current season of "90 Day Fiance: Happily Ever After?" which airs Sundays on TLC.
Click here to read our Season 3 episode recaps!
(Photos: TLC, Instagram)