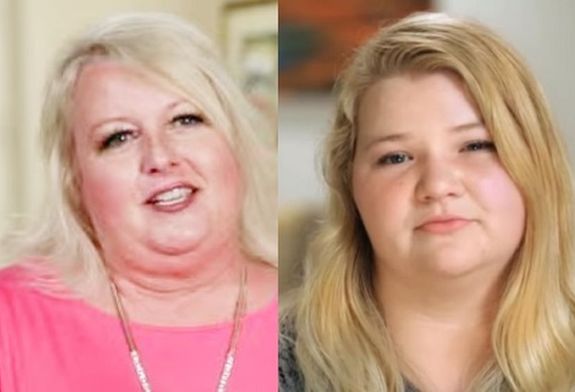 Nicole Nafziger did not take kindly to a little friendly advice that recently came her way, courtesy of her 90 Day Fiance franchise co-star Laura Jallali.
Laura left her words of wisdom in the comment section of Nicole's most-recent Instagram post, which shows a photo of her young daughter May, stoically eating. Many of Nicole's followers suggested that May looks sad because Nicole has been away from her for so many months. (As The Ashley previously reported, Nicole has been in Morocco with her fiance Azan Tefou since mid-March, when she flew there for a vacation, despite the COVID-19 global pandemic).
Nicole has caught a ton of flak over the last few months for not returning home to the United States.
Laura, however, didn't scold Nicole. Instead, she advised Nicole to learn from her mistakes. (Laura documented her move to Qatar– where her then-fiance Aladin Jallali lived– on the first season of 90 Day Fiance: The Other Way.)
"Honestly, you need to return to your daughter," Laura wrote. "Do not make the same mistake I did. She needs her mom, and these men are just users."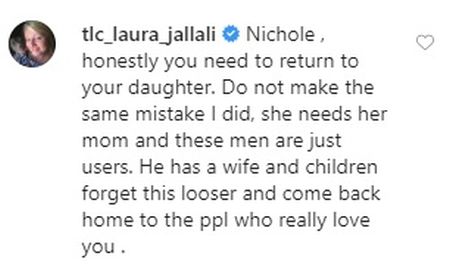 Laura then brought up a long-standing rumor about Nicole's fiance Azan.
"[Azan] has a wife and children, forget this [loser] and come back home to the pple who love you."
While many of Nicole's followers expressed their support of Laura's comments, Nicole was none-too-happy with the unsolicited advice.
"I'm sorry for what happened to you but I would never tell another cast member how their situation is because I don't know and I don't know anyone's story," Nicole responded to Laura. "Please make no mistake, my situation is not yours. Being a cast member you should know more then anyone is to not believe rumors told by liars.
"I miss my daughter more then anyone can know and no one knows how much me and her call each other. I'll be back to my daughter as soon as I can when the right moment comes," Nicole continued. "My daughter and my family know I'll be home for her soon. I've never left my daughter behind because she knows I'm still with her no matter what."
Although Nicole may be waiting to return to America until "the right moment comes," she may no longer have much of a choice. According to a new report from the Morocco World News, non-resident foreigners who are living in Morocco and were unable to leave within the normal 90-day limit due to the pandemic must leave the country by August 10 or face penalties.
"Those who do not leave before the specified time may need to go through a legal process of fixing their immigration status and could be subject to fines or imprisonment," the report states.
Nicole— whose mother Robbalee recently denied online that Nicole 'abandoned' May, as well as the rumors that Azan is married with kids— then responded to those who called her a bad mom for not coming home.
"Everyone can judge me for being a bad mom and think what you want," she wrote. "But I know my life and how it is. And when the time is right I'll show more of it. Thanks."
RELATED STORY: Nicole Nafziger's Mother Defends Her Against Critics Who Say the "90 Day Fiance" Star Abandoned Her Young Daughter to Live in Morocco with Fiance Azan Tefou
(Photos: TLC, Instagram)