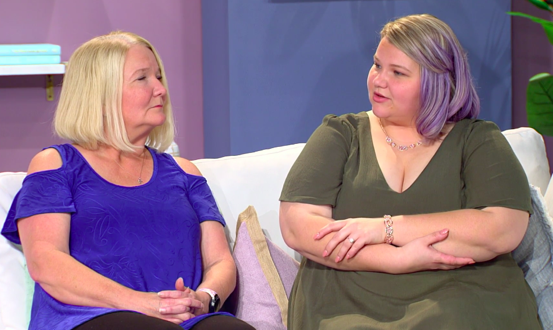 It's been over four months since Nicole Nafziger left the United States to visit her fiance Azan Tefou in Morocco– despite the U.S. issuing warnings at the time against international travel due to the COVID-19 pandemic. The 90 Day Fiance star's mother, Robbalee Nafziger has been caring for Nicole's young daughter May all this time, and recently had to defend Nicole against critics who say Nicole abandoned her daughter.
Robbalee recently posted to her Instagram that her other daughter, Taylor, is having a baby girl. Earlier this week, a few "90 Day Fiance" fans congratulated Robbalee— while also shading Nicole for leaving her daughter behind during a pandemic.
"Congratulations! I bet Taylor will be an amazing mommy and actually keep her daughter unlike Nicole who gave hers away for a guy who married his cousin," one person wrote in the comment section.
Robbalee stated that the rumors that Azan is married to his cousin and has children are false, and then directed her responses to those who stated that Nicole has abandoned May.
"There was no abandonment," Robbalee wrote. "She (May) is getting to spend time with her grandparents while her mommy is away. There is a lot more to this story than a simple answer. I am grateful for the time I get to spend with May, many grandparents don't get this much time or get to make this many wonderful memories."
She then defended Nicole, stating that, even though she is halfway around the world in Morocco, she still tries to stay involved in May's life.
"Nicole Facetimes with May almost every day," Robbalee wrote. "They watch TV together or she shows her the peppers that grow in the garden. Right now Florida is not even a safe place to come home to, when it is safe to travel she looks forward to coming home. We are lucky to have this time with her."
Nicole has defended her actions over the past few months as well, claiming that she cannot afford to pay for an airplane ticket to come home. Last week, she thanked Robbalee for watching May because she "can't" come home.
"Missing my mom so much," Nicole wrote on Instagram. "She is the best mom and grandma out there. Thank you for taking care of my little girl since I can't come back home yet.
"Stop judging my [life] and decisions," she continued. "Just an idea. I know you won't listen because it's easier to pin me as a bad mom and gossip about the drama."
However, according to Soap Dirt, Nicole has chosen not to take advantage of some opportunities offered to her by the U.S. Government to come back home.
"Nicole Nafziger has skipped out on flights back to America before that wouldn't have cost her a dime out of pocket," the site claimed in an article published on Wednesday. "The American government had set up a few flights out of Morocco to America. The United States government will even pay for Nicole's airfare until she is able to afford to pay her debt back at a later date, and at a cheap no-interest payment plan. So, Nicole wouldn't have to worry about dishing out the money all at once. But, she seemingly didn't jump on the opportunity.
"[She] will have another chance to leave Morocco – if she actually wants to. The U.S embassy in Morocco has arranged yet another special flight for U.S citizens to return to America. The flight leaves in about a week."
(The Ashley is not confirming that the site's claims are true or false.)
Nicole has yet to reveal when and if she plans to try to head back to the United States.
RELATED STORY: "90 Day Fiance" Star Nicole Nafziger Attempts to Explain to Critics Why She's Still in Morocco with Fiance Azan Tefou & Hasn't Returned Home to Her Daughter
(Photos: TLC; Instagram)