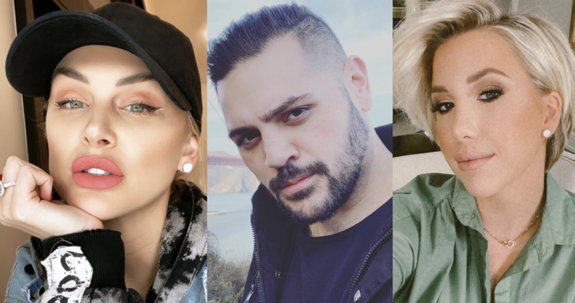 Vanderpump Rules star Lala Kent and Savannah Chrisley of Chrisley Knows Best are calling out Project Runway designer Michael Costello after he allegedly refused to work with them because they weren't famous enough. Michael did not take kindly to their claims and hurled back accusations that the ladies were just looking to get free stuff.
The multi-reality TV star feud began, according to The Blast, after Michael criticized Keeping Up With the Kardashians star Kylie Jenner for only tagging fashion designers on social media that he believes pay Kylie for publicity.
Michael voiced his grievances in a comment on one of Kylie's Instagram posts, taking the opportunity to thank the "no name designers who work tirelessly around the clock on custom looks" on Kylie's behalf, despite not getting a mention "unless it's paid."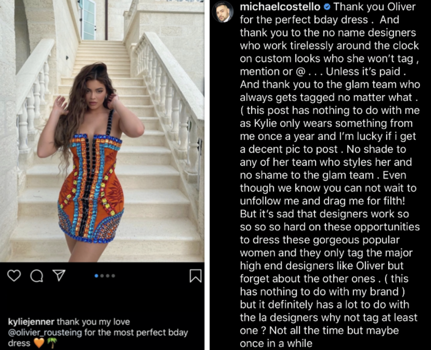 " … this post has nothing to do with me as Kylie only wears something from me once a year and I'm lucky if I get a decent pic to post," he wrote. "No shade to any of her team who styles her and no shame to the glam team. Even though we know you can not wait to unfollow me and drag me for filth! But it's sad that designers work so so so so hard on these opportunities to dress these gorgeous popular women and they only tag the major high end designers like Oliver [Rousteing] but forget about the other ones … ."
In response to Michael's comment, Lala revealed that she had reached out to Michael herself once, hoping he would make her custom wedding gown, only to not receive a response from the designer because she wasn't a "big enough" star.
"What a clown. This dude," Lala wrote on social media. "I literally blew him up to make my custom wedding dress-he would have gotten all the 'tags & @'s' he's talking about. But I never heard back from him…why? Because I'm not 'big enough.' So cool out, Costello-you do the same sh*t."
Micheal fired back at Lala's claim by posting a screen shot of a text conversation about her wedding dress, accusing the former SUR hostess of wanting a free dress and of being a no-show for their appointment.
"[Lala] you wanted us to dress you and we passed! You didn't want to buy anything we also confirmed an appointment for you and it was a no show," Micheal stated. "Why are you complaining a whole year later? God bless."
Lala responded to Michael's screenshot, telling him that he had made her point.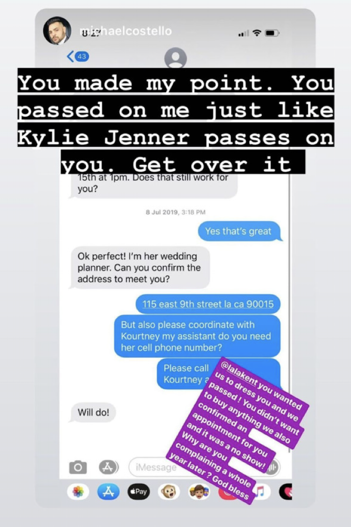 "You passed on me just like Kylie Jenner passes on you," she added. "Get over it."
Just when we thought this fashion feud was coming to an end, Savannah entered the chat to pile similar accusations onto Michael…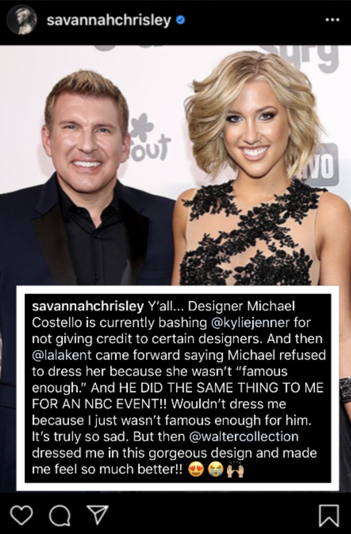 "Y'all… Designer Michael Costello is currently bashing [Kylie Jenner] for not giving credit to certain designers. And then [Lala Kent] came forward saying Michael refused to dress her because she wasn't 'famous enough.' And HE DID THE SAME THING TO ME FOR AN NBC EVENT," she wrote. "Wouldn't dress me because I wasn't famous enough for him. It's truly so sad. But then @WalterCollection dressed me in this gorgeous design and made me feel so much better!!"
Rather than taking the screenshot route, Michael left a lengthy comment on Savannah's post, telling her that "not everyone should expect something for free" and encouraging her to not "feel entitled."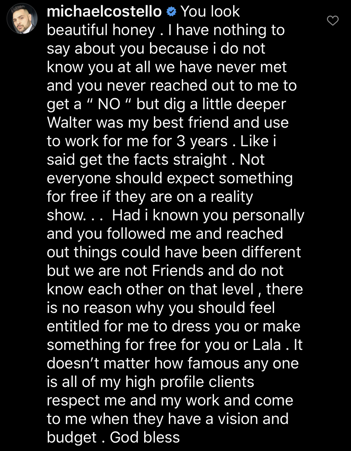 " … I have nothing to say about you because I do not know you at all we have never met and you never reached out to me to get a 'NO' but dig a little deeper … Not everyone should expect something for free if they are on a reality show," he replied. "Had I known you personally and you followed me and reached out things could have been different but we are not Friends and do not know each other on that level, there is no reason why you should feel entitled for me to dress you or make something for free for you or Lala.
"
It doesn't matter how famous any one is all of my high profile clients respect me and my work and come to me when they have a vision and budget. God bless."
Savannah responded to Michael's claims, noting that she doesn't need anything for free, nor has she "ever asked anyone to do anything" for her for free. She encouraged the 'Project Runway' alum to "stick to designing and your amazing talent instead of tearing women down."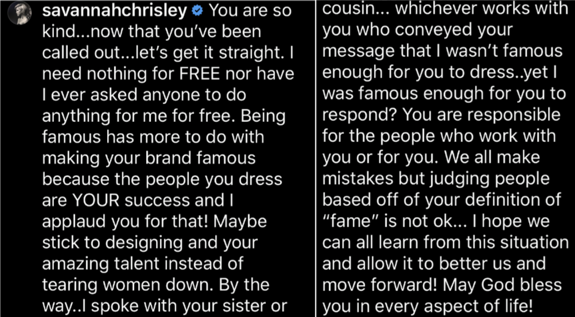 "By the way..I spoke with your sister or cousin… whichever works with you who conveyed your message that I wasn't famous enough for you to dress..yet I was famous enough for you to respond?" she added. "You are responsible for the people who work with you or for you. We all make mistakes but judging people based off of your definition of 'fame' is not OK… I hope we can all learn from this situation and move forward! May God bless you in every aspect of life!"
In response to Savannah's post, Lala (of course) showed her support in the comments, while throwing another dig at Micheal.

"You look stunning," she told Savannah. "This dude keeps using the word 'free.' We couldn't even get ahold of you to even ask you to give it to us for free."
RELATED STORY: Tom Schwartz Talks About the Future of 'Vanderpump Rules' & Says He Might Be "In Denial" About Cast Firings
(Photos: Instagram)