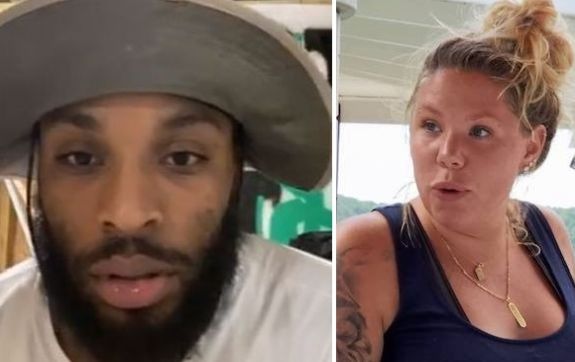 Let's get ready to rumble…again!
Teen Mom 2 star Kail Lowry was not happy about what her baby daddy Chris Lopez had to say about her during his Instagram Live session of Friday, when he was talking about the upcoming birth of their second child. When Chris went Live again on Wednesday, Kail surfed on to dispute his new claims— and to throw out a domestic violence bombshell!
After Kail blasted Chris on her Instagram Stories for not trying to be involved in her pregnancy during the last nine months, Chris denied there was any truth to her claims. However, he carefully chose his words, stating "I've got court comin' up so I can't say [anything]. I'm trying to stay free." (Chris' court date is in relation to the Protection From Abuse that Kail filed on him during the Fall of 2019.)
"If I get another [PFA], my ass is grass boy," Chris said. "When the courts open back up, my ass is grass."
Speaking of the protective order, Kail brought it up in the comment section of Chris' Live session on Tuesday, asking him, "What caused the PFA?"
"'Cause I made her feel threatened," Chris replied. "They felt threatened by me."
He then told Kail not to come on his Instagram and "put our business out there. I'll tell ya that right now, bro. I'm gonna check you right now at the door."
Kail then threatened to "tell the story" behind the PFA.
"Don't put our business out there. That's for me if I decide if I want to put that s**t out there," Chris said.
Kail then fired back with, "Check me where? Choke me again?"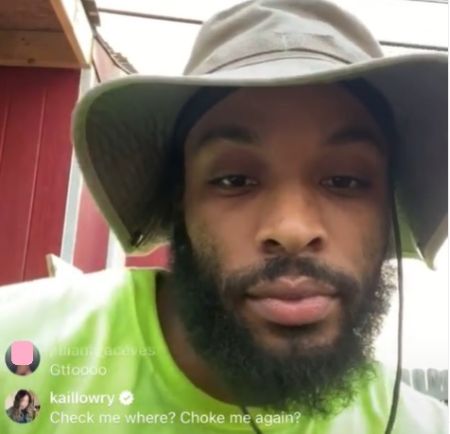 Chris didn't confirm or deny Kail's claim that he choked her. He did, however, go on to call Kail "a bully" and insinuate she was trying to get him to violate the terms of the PFA by coming on his Live.
"You know what they say man? You know what they say about bullies? They usually like the person they're a bully to," he said. "I'm standing up to my bully. That's what I have been doing this whole time. I ain't scared of you no more."
"She's mean…I'm terrified of her," Chris claimed, but quickly stated that he was "just playin'" and that he's not actually scared of Kail, whom many of his followers called violent due to her actions against her ex-husband Javi Marroquin. (During an episode of 'Teen Mom 2,' Kail was shown screaming at and pushing Javi into a door during a fight.)
Chris denied his followers' claims that Kail is a violent person, though.
"She's not violent," Chris said. "That makes a [person] violent because they pushed someone? Nah."
He also answered questions on the Live, telling a person who asked why he doesn't try harder to get custody of his son Lux that, "I shouldn't have to fight for that s**t, but if you want to play that mind game to the very end…Everyone loves playing f**king games but not me."
When asked how he deals with Kail and their custody situation, Chris replied, "A lot of people in my situation would be like why me? I don't look at it like that no more. I look at it like why not me? I'm the only person who could handle this s**t. Any other person would have folded. Any person you put in my position would have folded. I don't trip, bro."
During his Live last week, Chris talked about his second son's upcoming birth, stating that he will attend if he "gets the call" from Kail. (On Wednesday she stated on her own Instagram that Chris would not be invited to the birth.)
When asked about that, Chris gave his thoughts.
"No I can't get a call," he said, adding that he has to follow the rules of the PFA, which forbids him from contacting Kail. "I was actually following my order, what's the difference when you got me locked up? I wouldn't be able to reach out, make it to the birth? You wanted me locked up. Me following my order and me being locked up, what's the difference?"
Chris said he's confident that his current squabble with Kail will blow over, though, and that much of it is related to her pregnancy hormones.
"This is the way we work things out, she talks her s**t to me, I let her get it out. This time I am not reacting," he said. "I'll probably reach out to her in a minute, if she ain't block me already. I'm gonna say hi, are you hungry? Do you feel better? I know it's the hormones."
Fans advised him to stop having kids with Kail and to "wrap it up," but Chris admitted he "probably won't listen to ya."
"I am proud getting her pregnant twice. I got two kids by the same person, I am very proud of that," Chris said, adding that he hopes to eventually have a daughter. Whether or not he wants that child to have Kail as her mother remains to be seen, according to Chris.
"I would want all my kids to have the same mom, I would love to, but crazy people, it's crazy out here," he said. "I had intentions of being a family, but, hey life goes on…I've thought about getting a vasectomy, especially now, but I want a daughter. But this ain't worth it."
He later added that Kail wanted another kid but not another baby daddy.
"I think I've accepted my role in her life as a sperm donor…That's all she wants from me," he said.
Kail is due to give birth at the end of this month, and has stated that she will be doing a home birth. She is already the mother of Lux (by Chris), as well as son Lincoln (with Javi) andson Isaac (with Jo Rivera).
RELATED STORY: Kail Lowry's Baby Daddy Chris Lopez Reveals If He Will Be in His Unborn Child's Life; Talks About Why He Keeps Having Kids with the 'Teen Mom 2' Star & More
(Photos: MTV, Instagram)