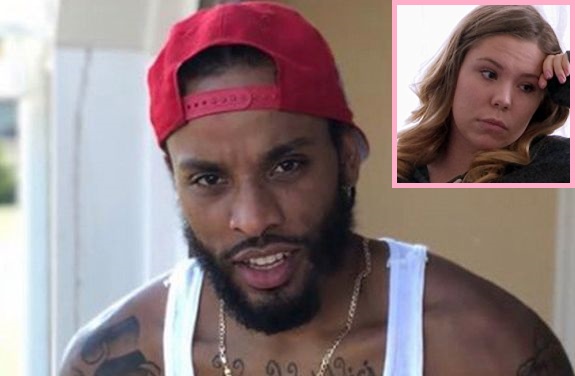 UPDATE! Chris has been bonded out, as of Tuesday evening. He is no longer in custody.
Another day, another Teen Mom baby daddy behind bars!
The Ashley can exclusively reveal that Chris Lopez— the baby daddy of Teen Mom 2 star Kail Lowry— is currently in custody of the Delaware Department of Corrections, as of press time.
Last week, The Ashley broke the news that a warrant had been issued for Chris' arrest, after he allegedly violated a protective order Kail has against him. It appears that Chris actually turned himself in on Tuesday, during his scheduled court hearing in Family Court. Chris— who is the father of Kail's son Lux— was due to have a Case Review Hearing on Tuesday before he allegedly violated the PFA.
It appears that this latest arrest, and one of the ones from October, were for violating the domestic violence protective order that Kail took out on him in the fall of 2019. (As The Ashley told you last week, Chris was arrested twice in October 2019.)
It does not appear Kail appeared at the hearing on Tuesday. However, court records indicate that Chris' trial is due to begin on March 9. (Of course, there's always the chance that Chris will be offered a plea deal for the three offenses.)
From what The Ashley's 'Teen Mom 2' sources tell her, this whole situation has not been filmed for the upcoming season.
"The producers have definitely tried to get Kail to film about the legal issues and the possible pregnancy story, but her lawyer has shut it down," one source told The Ashley.
It's been a busy few weeks for Chris and Kail. Last week, Chris' aunt posted a sonogram on social media and claimed that it was Kail's sonogram, and that Kail was pregnant again by Chris. Kail has yet confirm or deny the pregnancy claims, but yesterday, Chris appeared on Instagram Live, telling his followers, "Nobody is pregnant. I don't know about these rumors you all are hearing about."
(Of course, Chris has been known to lie or exaggerate the truth online in order to mess with 'Teen Mom' fans so The Ashley recommends taking anything he says with a grain of salt.)
In a message posted to Instagram on Monday, Chris seemed remorseful, posting the Tyson Fury quote, "I pray for forgiveness. For help and guidance. To be a better person. For the health of my family. For the world to be a better place."
The Ashley will update this story when more info is available….or if she can finally obtain Chris' mug!
RELATED STORY: Chris Lopez's Aunt Claims 'Teen Mom 2' Star Kail Lowry is Pregnant with His Baby: Inside Their Crazy Last Few Months of Violence & Arrests (Exclusive)
(Photos: MTV, Instagram)