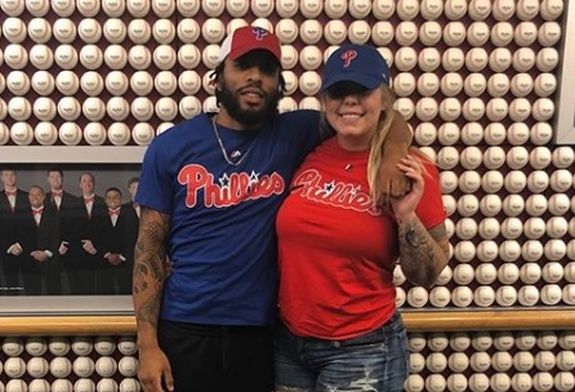 The Teen Mom World was rocked on Monday morning after it was reported that Kail Lowry is pregnant again by her third baby daddy Chris Lopez. The news came from Chris' aunt, whom confirmed to the Teen Mom Shade Room Instagram account that the Teen Mom 2 star was once again pregnant with Chris' child. Chris' aunt posted a photo of a person holding a sonogram who is supposedly Kail, who had very similar fingernail polish back when the photo was taken.
While The Ashley has been unable to confirm or deny whether or not Kail's actually pregnant, (stay tuned on that!), The Ashley did discover the cornucopia of craziness that's been going down between Kail and Chris over the last few months!
According to Chris' aunt–who claimed in Instagram comments that she exposed Kail's alleged pregnancy because "karma is a bitch" and because Kail "has slandered Chris and made him look so bad in the media"— Kail is due on July 25. However, that would mean that the baby would have been conceived right around the time The Ashley has discovered that Chris was arrested for violence against Kail!
Online court records indicate that Chris was arrested twice in October, and that there is currently a protective order barring Chris from going near Kail. (It appears that order has been in place since right after the arrests.)
The Ashley can also reveal that Chris is due to face the charges in court later this month. Online court calendars indicate that he and Kail have a court date on January 21. (The Ashley is still hunting for Chris' mugshots.)
Kail and Chris– who share son Lux— also spent time in court in the Fall of 2019, where Chris tried to give up his parenting rights to Lux. Court records indicate that a judge refused to sign off on Chris' request, though.
The protective order is currently still in place, meaning that if Chris approaches Kail, he could be arrested for violating the order and taken back to jail.
In Chris' aunt's explanation as to why she posted that Kail was pregnant, she indicated that she was upset about some stuff that Kail did in the past (which may or may not be having Chris arrested).
"There are some things that happened that I never mentioned or said anything about so now is the time," Chris' aunt wrote on Instagram.
The Ashley has reached out to both Chris and Kail's team for comment. While she has not heard back from Chris, a rep for Kail told The Ashley that "Kail can not comment due to an ongoing investigation." Chris has yet to comment publicly on his aunt's claims. He did, however, post that "You can block family too" on his Instagram Stories, indicating that he may not be thrilled with his Auntie's decision to either spill the pregnancy news, or make up a pregnancy story out of pettiness.
The Ashley has also reached out to her production/crew sources.
"If Kail is pregnant, she's done a good job of keeping that information from the producers," one source said. "Until the story broke today, no one had any clue that a pregnancy was even a possibility."
The Ashley will update this story when she has more information…stay tuned.
(Photos: Instagram)