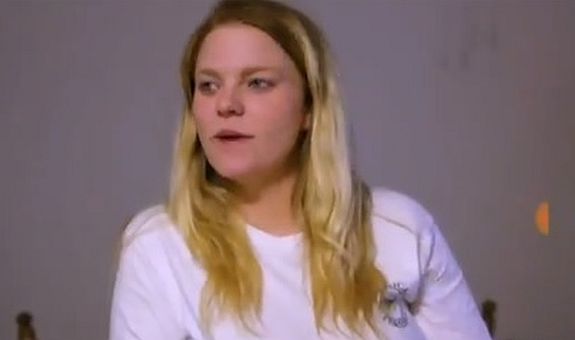 A new Teen Mom baby has arrived…but for once it wasn't one of the Teen Mom girls with her feet in the stirrups!
Victoria Messer— the sister of Teen Mom 2 star Leah Messer— announced the birth of her son on Monday. The baby weighed in at 6 lbs., 7.5 ounces and was named Caí River. And, naturally, MTV cameras were there to capture the birth in all its placenta-covered glory!
"Victoria was induced, so Leah's MTV crew was able to plan it out so they could be there," one production source tells The Ashley.
Victoria posted plenty of photos of Baby Caí (and the MTV camera crew) on Instagram on Monday.
"Our sweet baby boy made his arrival today," Victoria wrote. "Caí River Rodríguez Messer
Weighing 6 pounds 7.5 ounces. With a head of hair. So thankful to everyone who helped and also to those that have sent lots of love and support. He is SO perfect & i still CAN'T believe I finally have my boy!!"
This is the third child for Victoria, who has a daughter by each of her two ex-husbands.
This is also the third child for the baby's father, Royer Rodriguez, whom Victoria met while in Costa Rica on vacation with Leah and Kail Lowry in the spring of 2019…while she was still married to her second husband. (Click here for all of those details.)
Unfortunately, Royer was unable to be in the United States for the birth of his son, although The Ashley's source tells her that Victoria & Co. did try to get Royer here for the birth.
"They were supposed to go [to Costa Rica] and get him so he could be at the hospital with Victoria, but something happened with the lawyer and it couldn't be worked out in time," the source told The Ashley.
It appears that Royer did get to at least watch the birth via FaceTime. In one photo, Victoria holds her baby in one arm and her beamed-in baby daddy in the other!
In December, Royer made his first MTV appearance when he was Skyped into the 'Teen Mom 2' Reunion, where he and Victoria talked about Royer not wanting to come to America. (He has two children in Costa Rica already.) After she and Royer got plenty of backlash from fans, Victoria posted a long message on Instagram.
"The fact is Royer could choose to go anywhere once he has his passport, but he is CHOOSING to come here to become a family and is willing to go through this difficult process that we are trusting in," Victoria wrote. "I am sad that I feel as though I have to defend our situation, however I want people to know the truth and not just what's being portrayed.
"This has been a very hard situation for the both of us," she continued. "We both wish we could do the things that other expecting couples can. We would love to experience things with the pregnancy and the birth of our son together. We hurt through this process but we are trusting the process and we are so thankful for the support that so many have shown."
During the Reunion, Leah revealed that she is sponsoring Royer to come to America, meaning she is agreeing to be financially responsible for him.
In comments posted to her Instagram on Monday, Leah told a fan that Royer may not have made the birth but he will be in the U.S. "very soon."
See more photos of Leah and her daughters with the new baby below!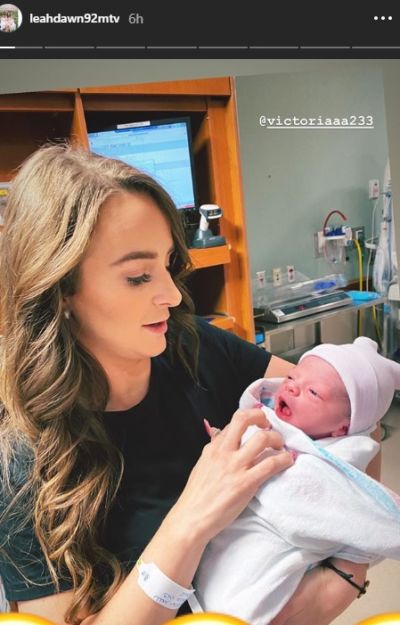 RELATED STORY: Victoria Messer Defends Her Costa Rican Baby Daddy After Getting Backlash From Fans Who Watched 'Teen Mom 2' Reunion
(Photos: MTV; Instagram)