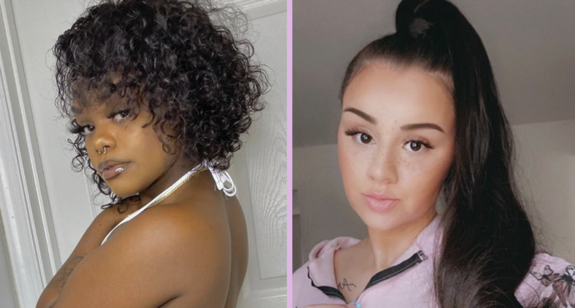 With the future of MTV's Teen Mom: Young and Pregnant still officially uncertain, two of the show's stars have launched OnlyFans accounts to keep their cash flowing.
Kiaya Elliott and Kayla Sessler are among the latest reality TV stars to offer content on the subscription-based website. The girls shared the news of their newly-launched OnlyFans accounts on their respective social media pages this week, while making sure to tag each other in their matching photo captions.
While plenty of other reality TV stars have turned to OnlyFans to supplement their income, this marks the first time any of the 'Teen Mom' franchise stars have joined in on the nudie pic fun, (unless you count Farrah Abraham, who has been on the site for a long time).
Speaking of Farrah, plenty of Kiaya and Kayla's fans brought up the Backdoor Teen Mom and asked if the 'Young and Pregnant' girls were planning to take their careers into the adult industry a la Farrah. Kayla made it clear that she does not intend to flash her "backdoor," Farrah-style, or post naked photos (despite some of her followers asking for them).
"Don't do nudes or p0rn, gone get fired like Farrah," one follower told Kayla, to which Kayla guaranteed there would be "none of that!"
Kayla told another fan there would be "NO NUDES" and advised them not to "subscribe if that's what you're looking for." (In case you care, it costs $9.99 a month to subscribe to Kayla's non-nude posts.)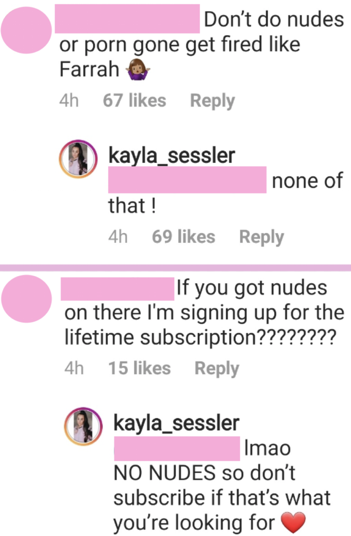 Kayla took some flak from her followers for joining the site, but her former 'Young & Pregnant' co-star Lexi Tatman defended her in the comment section of her announcement post.
"People ain't understand that [OnlyFans] isn't just for p0rn and nsfw," Lexi commented. "You're a grown a** [woman] you get that coin!"
Still, another critic suggested Kayla instead "apply this energy to getting an education and a career." Kayla replied to the comment that it's a "good thing I'm in college."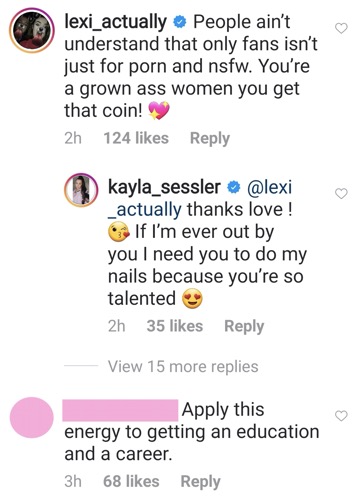 Kiaya, on the other hand, seems more open to the idea of baring all on the site. She has posted not one, but five Instagram photos this week promoting her OnlyFans page, leading some to criticize her latest business venture.
"That ['Teen Mom: Young and Pregnant'] money done dried huh," one person commented, to which Kiaya replied, "Nah can't never have too many bags."
While Kayla has been firm in her no-nudes policy, Kiaya has hinted that her account will be a little more NSFW. In a photo posted to her Instagram on Monday, she covered the lower half of her body with an emoji, encouraging fans to subscribe "to see the uncovered pics." (It will cost you $9.99 a month to see Kiaya's "uncovered pics," by the way!)
https://www.instagram.com/p/CC4puOuM_Lr/?utm_source=ig_web_copy_link
Several of Kiaya's followers asked if MTV will permit Kiaya and Kayla to keep their jobs on 'Young and Pregnant' if they post adult content on the site.
"No judgment at all but will MTV keep you on after this we all remember Farrah and she got fired?" one person asked, referring to Farrah's infamous 2017 firing, which happened in part due to her continuing in the adult industry.
The 'Young and Pregnant' girls likely won't have to stress about that. As The Ashley previously reported, Teen Mom OG has been officially renewed for another season, and Teen Mom 2 will likely be officially renewed in the coming weeks. 'Young and Pregnant,' however, has been on the line for months. As of press time, no "official" decision has been made (or announced to the cast and crew), but The Ashley's sources tell her that the show "is likely done" due to its poor ratings.
Kiaya and Kayla are certainly not the first to hop aboard the OnlyFans money-making train, with Unexpected stars McKayla Adkins and Laura Barron previously launching accounts on the website, as well as cast member Rilah Ferrer's mom, Rosa.
RELATED STORY: Former & Current Reality TV Stars Turning to OnlyFans to Sell Adult Content to Subscribers: A Look at the New Trend
(Photos: Instagram; OnlyFans)