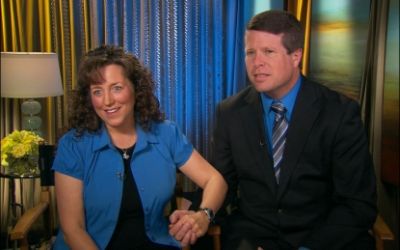 File this one under part "Aww" and part "Eww."
Jim Bob and Michelle Duggar have opened up about their very active sex life in a new interview with Today.com. The 19 Kids and Counting stars have been married for 30 years and are the parents of 19 kids, but they've managed to stay happy. Their secret? Apparently lots and lots of sexy time.
"We're like a newlywed couple every day!" Jim Bob told the site.
Eww…moving on…
According to Michelle, a wife should be ready and willing to have sex with her husband any time he wants.
"In your marriage there will be times you're going to be very exhausted. Your hubby comes home after a hard day's work, you get the baby to bed, and he is going to be looking forward to that time with you. Be available," she said. "Anyone can fix him lunch, but only one person can meet that physical need of love that he has, and you always need to be available when he calls."
Wait…now we have to fix them lunch too?!
Obviously, Michelle has taken her own advice. She has been impregnated by her husband almost every year since 1988!
While the Duggars admit that they basically bone like bunnies, they also discussed the times that they abstain from doing the nasty. Apparently, they swear off sex for one week each month.
"When you've missed it for seven days, you look forward to it even more," said Michelle.
They also keep it in their pants after the birth of a child. If Michelle squirts out a girl, they don't have sex for 80 days. If it's a boy, the sex stops for 40 days. (They didn't elaborate as to why the baby's gender makes a difference in the amount of time they abstain.)
Sexy time isn't the only thing that keeps the Duggar marriage strong, however. Apparently their regular date nights, love of God and Jim Bob's frequent "wooing" of Michelle have kept them together.
They did offer this advice to married couples:
"The secret to a healthy marriage is remembering the phrases 'I was wrong' and 'Will you forgive me?'"
Unless, of course, he comes home at 2 a.m. with a condom wrapper in his pocket and lipstick on his shirt. The only thing left to do in that situation is to call Jerry Springer, obviously.
(Photo: TLC)