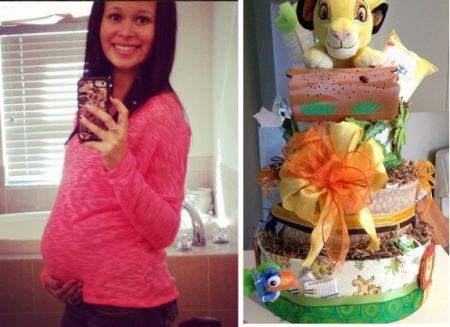 It's about to be another boy for 16 and Pregnant star Jennifer Del Rio! Jennifer, who gave birth to twins Noah and Joshua during Season 3 of 16 and Pregnant, is currently 29 weeks pregnant with her third child, a boy she plans to name Sebastian. Her friends and family threw her a baby shower to celebrate the new baby.
The baby shower appears to have had a Lion King theme, which is the theme Jenn is using to decorate the baby's room.
Jennifer will be the third girl from the '16 and Pregnant' franchise to give birth to her third child in under fourth years. Season 2 star Leah Messer (who, like Jennifer, also had twins) was the first when she gave birth to baby Addy last February. Season 4 star Kristina Robinson recently had her third child. While she's the first to have a third child, she is certainly not the first from her season to get pregnant again. Jordan Ward had another baby back in November 2011, Danielle Cunningham gave birth to her second child in June 2013 and Jamie McKay admitted to having an abortion in the fall of 2012.
A lot has happened with Jennifer since we last saw her on the "Where Are They Now?" special. She has moved back to her home state of Florida, reestablished a good parenting relationship with her ex-fiance, Josh Smith and married Luis Guiterrez back in April of 2013.
At this time, there is no "Where Are They Now?" specials scheduled for the Season 3 stars of '16 and Pregnant,' so The Ashley will do her best to keep you posted on what's happened to the girls!
(Photos: Instagram)