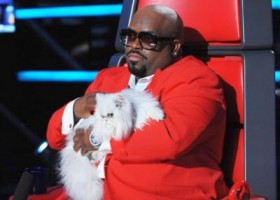 It looks like Adam Levine is going to have to start wearing birds on his head. The Voice's resident wacky bird-wearing and cat-cuddling coach, CeeLo Green, has announced that he will not return to the NBC singing show. During an interview on Ellen Degeneres's talk show (which airs today), CeeLo says that he is permanently vacating his Big Red Chair.
"I'm not coming back, guys," he told Ellen. "I'm not coming back at all."
CeeLo, who, along with fellow coach Christina Aguilera, took a break during the fifth season of the show to focus on their music. Singers Usher and Shakira took their place as coaches and proved to be much more well-liked than anyone expected.
Many fans even hoped that Usher and Shakira would take over coaching duty permanently, causing NBC to decide to alternate between Christian and CeeLo and Usher and Shakira each season. Blake Shelton and Adam have always remained part of the coaching circle.
However, CeeLo is apparently over that arrangement. Although he was supposed to return after the upcoming season finishes, he has decided to call it quits. After stating that he doesn't want to "wear out" his welcome on the show, he released a statement to Today.com officially announcing his retirement from the show.
"I'm officially announcing today that I won't be returning as a coach on 'The Voice' cycle seven in the fall," his statement read. "There are numerous reasons that led to this decision, which has been amicably reached with NBC…I will not go quietly into the night … expect more great music and entertainment done in my own unique unmistakable and undeniable way. 'The Voice' has given me all the altitude and incentive to do just that. Thanks for the memories and make way for many more!"
In his statement, CeeLo mentioned that he will continue to work with NBC, and may even be working on a new music show and hosting opportunities.
So…where does this leave Christina? Will NBC wheel out a fifth Big Red Chair and throw her into the mix with Usher, Shakira, Blake and Adam? Will she get a permanent pink slip? Does anyone even care?
Are you sad to see CeeLo go? Tell The Ashley in the comments!