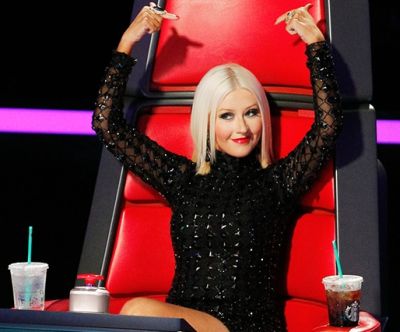 Christina Aguilera is knocked up–will that knock her out of her Big Red Chair on The Voice?
Just days ago, Christina's fellow 'Voice' coach, CeeLo Green announced that he would not return to the show as a coach. His departure caused viewers to wonder what would become of his co-coach, Christina, since she was now left without a "partner" when it came to alternating seasons with Shakira and Usher. The pregnancy may cause Christina to join CeeLo in 'The Voice' retirement home.
Last week, Christina announced that she was engaged to her longtime boyfriend, Matthew Rutler but did not mention her bun in the oven. According to a source at Us Weekly, Matthew had planned to propose even before he found out she was knocked up.
Suuuuure…
Anyway, this will be Christina's second child. She has a six-year-old with her ex-husband, Jordan Bratman.
She has officially confirmed the pregnancy and but has not spoken out about whether or not she plans to return to 'The Voice' in the fall. (The season that premieres this month was already scheduled to be a "Shakira/Usher" season.) Shakira was able to film part of her last season while pregnant, so there's a chance that Christina will be able to do the same. However, without a rotating partner, it may be a good time for her to step away from the show.
If she goes, whose hair will The Ashley make fun of?!
(Photo: NBC)