Teen Mom fans are going to get their first in-depth glimpse into Amber Portwood's post-prison life this Sunday when her hour-long special, Being Amber, premieres. The MTV cameras started rolling right as Amber was released from an Indiana women's prison back in November, and, in a new sneak preview clip, the reality star confesses that it may have been a bad decision to film so soon.
"It's a lot to handle," she tells a family member in the clip. "I think I should have gotten used to being home a little bit before I started filming."
Amber, who spent 17 months behind bars for violating her probation for domestic abuse and drug charges, mentions that, while she was in prison, she tried to forget about all of the craziness her reality TV show fame brought her.
"When I was in there I tried not to think about anything out here. It was out of sight, out of mine in there," she said.
When Amber starts talking about her daughter Leah's confusion about her release, she gets so emotional that she shoos the MTV cameras away.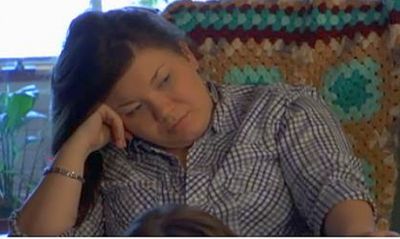 "I can't do this right now," she says as she flees to another room. After an MTV producer goes in to comfort (and/or pull her out of the room so that they can continue to capture her breakdown on camera), Amber says that she feels so bad about leaving Leah for so long while she was in prison.
"She's afraid that I'm gonna f**king leave her again," Amber says of Leah, who is standing outside the door.
Some fans of the show have argued that, judging from the clip, Amber has not changed much since we last saw her, something her brother Shawn says could not be farther from the truth.
"Ahhhh..don't judge a book by its cover. That is what MTV wants you to see. You will be surprised if you have that mentality," he tweeted after the clip was released.
The "Being Amber" special airs this Sunday. To learn more about the specials click here!