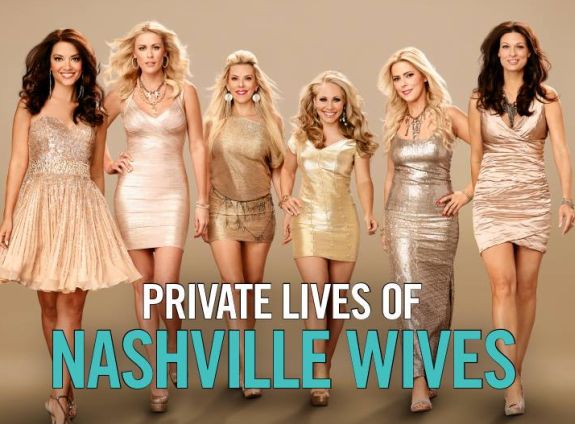 Howdy, Roundupers! The Ashley has a new show that she will be recapping each week: Private Lives of Nashville Wives. While The Ashley has always adopted a "No Housewives" policy on this site, she has made an exception for this show for one reason: she is obsessed with anything that has to do with her favorite state, Tennessee. The big hair, the overuse of the term "bless her heart"–The Ashley loves it all so she just couldn't resist writing about this show.
Anyway, last night was the show's premiere and from the first two minutes we learn quite a bit about the Nashville scene and its Southern belles: they like to party, shoot guns and beat their sisters with sticks. (Sounds like they'd fit in nicely in Compton, no?)
Let's me the cast, shall we?!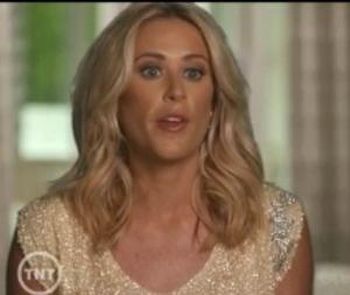 We first meet Sarah, who is an aspiring country singer. She sing songs about cowboy hats, guys in tight jeans and assorted tractors and is excited because she managed to snag a spot performing at CMA Fest.
She's originally from Georgia but moved to Nashville to achieve her dreams of country music super-stardom. Unfortunately, most people only know her as Dallas Davidson's wife. (Seriously, with that name, did he even have a chance to be anything other than a country music songwriter? Well, maybe a p0rno star.) He's written tractor songs for everyone from Trace Adkins to Brad Paisley, but also tries to help his wife make it in the scene.
Next we meet Erika, a former soap opera star that's now married to singer/songwriter Bryan White. Bryan's busy bragging about how great of a guitar player he is, all while his son looks like he'd like the cameras to get the heck out of his kitchen so he can eat his Poptart in peace.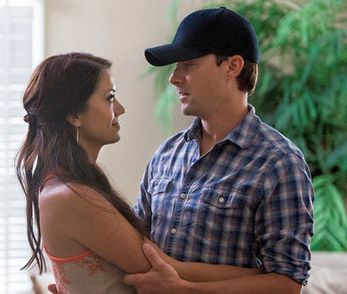 Erika gave up her acting career to be a stay at home mom, and now spends her time burning breakfast sausages for her family. Deeming Erika's breakfast inedible, they mosey on over to Puckett's, which is apparently the place to go if you want to see Nashville celebrities. It's also the kind of place a guy named Hep will cook you up some barbequed ribs 'round back by the dumpsters.
It's there that we meet Cassie and her husband Gary. He was once married to Christian singer extraordinaire Amy Grant, but is now married to former Hooters girl, Cassie. She wasn't just some regular big boobied Hooters bimbo, though– no sir! She was one of the girls that actually appeared on freeway billboards, so you know she was legit. Apparently Cassie's caught some flak over the years because she's 23 years younger than Gary and is assumed to be a gold digger.
We are next introduced to Betty and her husband Raul. They, too, enjoy the cuisine and company at Puckett's so they motor scooter over there to catch up with the other cast members. Raul is the lead singer of a Grammy-winning band called The Mavericks, and Betty says she wants to emerge from his shadow. Raul just wants fried pickles.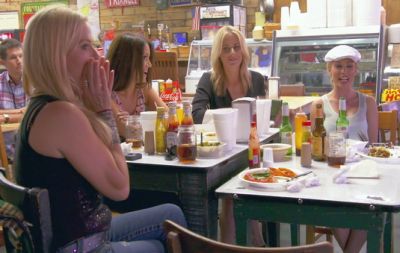 Naturally, it wouldn't be an afternoon at Puckett's if the guys aren't "randomly" called up on stage to play a song. It's kind of like on 'Full House' when the Tanners go anywhere that has anything to do with music and Uncle Jesse just happens to find a way to end up performing. When the boys hear that they'll get all the assorted fried goods that they can eat if they do a diddy for the crowd, they all decide to give it a go.
Erika says that watching the guys perform is inspiring her to think about going back to acting. She misses the days where everyone at Puckett's was making a big fuss over her and she's jealous of the attention the boys are getting from the four patrons that are currently in the restaurant.
Meanwhile, we head into the 100 Acre Woods to meet up with Jenny, who lives in a giant treehouse with her husband JT. Jenny is a career woman who's the VP of Living Social. She appears to be the only Nashville Wife that isn't somehow linked to the music industry, because her husband actually owns a huge party supply company. Somewhere along the line, though, JT found time to marry and knock her up, which kind of threw a wrench in her life plan. Jenny can barely find time to take her baby to the park, but JT is trying to get her sperminated again.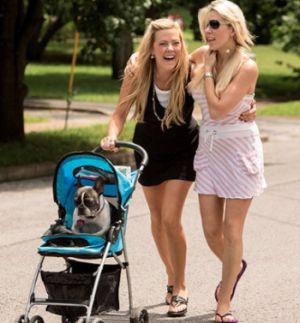 The next 'Wive' we meet is Anna, a spicy Cuban whose twin sister is Betty. She rides around on a pimped out pink motor scooter with her dog in the basket, so automatically she's my favorite "Wive." Right away, Anna tells us that she's a "ball-buster" that is often found right in the middle of whatever hijink is going down.
She meets up with her twin sister and immediately their conversation turns into an argument about who's going to go "get the pig." Yessssss. Betty wants Anna to go fetch them a pig for a roast but they are scared that they are going to have to de-hair it. Ahh, #TennesseeProblems They finally sucker poor Raul into fetching the swine.
He picks up the dead pig and brings it home and the twins are freaking out. Betty apparently didn't realize that their favorite food, bacon, actually came from a dead pig, and Anna says to suck it up. Raul leaves the girls to take the pig out of the truck and hijinks ensue.
They are squealing and squawking while trying to bring themselves to pick up the dead animal. They finally get the pig onto the table and Betty tries to hug her sister but Anna doesn't want her "pig hands" all up on her. They both swear off eating bacon forever…or at least until the party that night.
While the twins are busy going "hog-wild," Erika brings her family over to Cassie and Gary's home. Apparently Erika's husband and Gary have been friends since they were on some Hee-haw TV show in the 1990s. Cassie wasn't able to watch the show when it was on the air, however, because, you know she was busy playing with her Barbie Dreamhouse.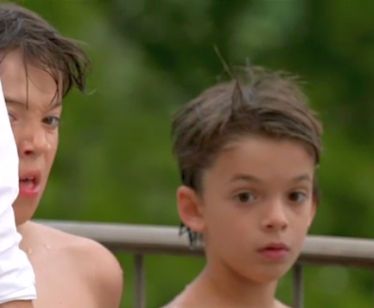 While the kids play, the adults (and Cassie) decide it's about time to blow up something. They go fetch a bunch of watermelons and an assortment of guns. Then they get the kids out of the pool so they can show them all of the guns they're not allowed to touch. Cassie, however, is doing her best to let the boys know how cool it is to play with guns.
Gary instructs Bryan how to shoot the gun. "Just line it up and squeeze," he says. That's basically how he chose Cassie to be his wife out of all the other Hooters waitresses.
After shooting the melons, the guys head off to talk about their new records, while the ladies chat about Erika's stifled acting career.
Meanwhile, over at the treehouse, Sarah has arrived to pick Jenny's brain on how to market her singing career. Sarah invites Jenny and her husband to come see her sing at the CMA Fest. Jenny offers Sarah some pretty obvious advice: Have your star songwriting husband pimp you out to the industry as much as humanly possible and try not to look homely when you go out.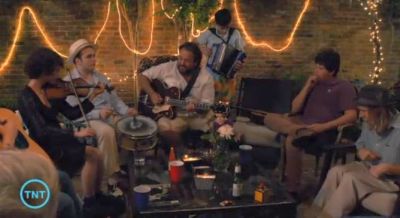 Back at Raul and Betty's house, the pig shenanigans continue. Anna is ready to beat the bejesus out of her sister because she's not helping with the party preparations. Eventually they get everything in order and a bunch of people arrive to hang out and feast on the pig. Naturally, everyone brought their instruments so they have an impromptu jam session at the party.
The next day, Sarah is preparing for her big gig at the CMA Fest. She's worried about being able to stand out from the bazillion blond women country singers. Um… you have something the other girls don't: a super famous husband and your own reality show. You'll be fine, girl.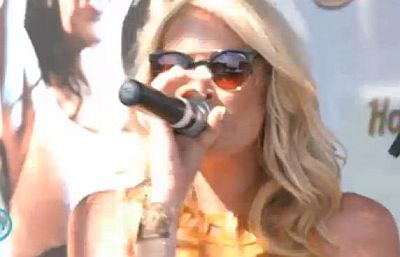 The whole "Nashville Wives" gang has come out to support Sarah. The Budweiser-swillin', hot dog-eatin' crowd appears to be enjoying Sarah's set and it's a hee-hawin' good time for all involved.
Next week on "Nashville Wives," Cassie and Gary are considering adopting a baby and meet with a girl who's just given birth. Seriously, The Ashley just can't stay away from pregnant teens, can she?! Sarah will perform and no one will listen, and the women have an unsuccessful girls' night out.
Catch the next episode next Monday night!
(Photos: TNT)