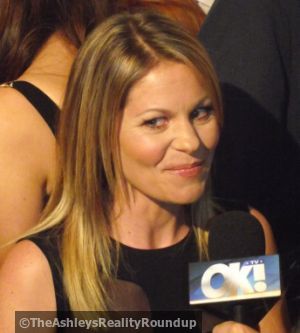 The grapevine is buzzing that Full House star Candace Cameron-Bure will be part of the cast for the upcoming eighteenth season of Dancing with the Stars. Although we won't officially find out who will be tangoing on TV until tomorrow, when the cast is announced on Good Morning America, The Ashley was able to catch up with Candace at Thursday night's OK! Magazine Pre-Oscar Party and ask her a few questions about the rumors.
For those of you keeping score at home: Yes, The Ashley got to interview DJ Tanner! And yes, that basically made her life! Anyway, Candace wasn't able to confirm or deny the rumors (which basically tells us that she will, indeed, be on the show). She did say that "if" she is cast, the other contestants will have some stiff competition.
 "I love dancing. I go dancing with my girlfriends all the time and I'm the best wedding dancer ever," she told The Ashley exclusively, adding that she has a fondness for retro dance moves.
"We are '80s and '90s girls so we like to dance to New Kids on the Block, maybe [do] the robot and the Cabbage Patch Kid" she said. "We did a lot of dancing [on Full House] so I have some experience"
As all of you Roundupers know, The Ashley is obsessed with 'Full House' (hence why there are references to the show in a bunch of my recaps), so she had to ask about a potential Tanner family reunion show. The men of 'Full House' recently reunited to film a series of Super Bowl commercials and a Jimmy Fallon appearance, which was basically the best thing ever.
"There's nothing in the works yet, for any type of reunion or commercial or show," Candace said, adding that a reunion of just the show's women may be a possibility.
"I think most of them would be willing," she said. Most? Hmm…I wonder which ones would be the hold out…. Anyway, Candace did say that she loves to watch the "talent" reality shows.
"I love 'Dancing with the Stars,' I love The Voice and American Idol. I've watched every single season of that show since it started," she said. "I really love the singing shows."
Is anyone else thrilled at the prospect of seeing DJ Tanner do the robot on our TV screens?! First they give us Jessie Spano and Stacey Carosi from Saved by the Bell, and now DJ? It's as if The Ashley picked the casts of 'Dancing with the Stars' herself!
UPDATE: The rumors are true! Candace was announced as part of the Season 18 cast this morning! We will have a tangoing Tanner!