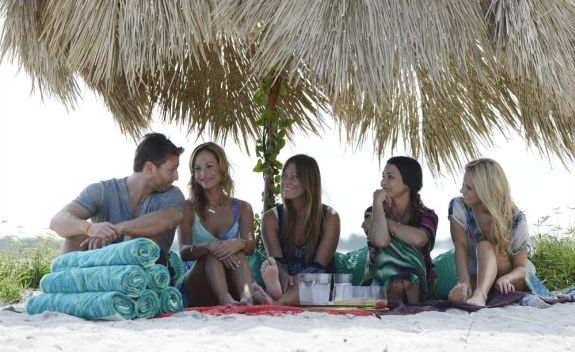 The producers of The Bachelor/ Bachelorette/ Bachelor Pad have just announced that they will be introducing a brand-new series to the 'Bachelor' franchise: Get ready for Bachelor in Paradise!
According to Entertainment Weekly, the new show will "bring back many of the Bachelor's fan favorites and villains to give them a second chance to find their soul mates."
The new show, which will air after Andi's season of The Bachelorette ends this summer, will take place in some far-off tropical island location and will feature some sort of rose ceremony. Once again, Chris Harrison will serve as host of the shenanigans.
"The romantic dating series will feature new twists, shocking surprises, unexpected guests and some of the most unlikely relationships in 'Bachelor' history, plus all the usual romance, drama and tears we've come to expect from the 'Bachelor' franchise," the producers told EW.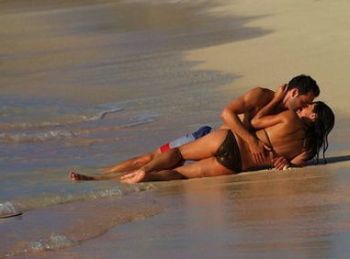 So basically we will be watching the most-interesting specimens of the latest 'Bachelor'/'Bachelorette' casts frolic on a beach in their bikinis, hook up in hot tubs and jump into the water off a boat. (This sounds like every single season of 'The Bachelor' or 'Bachelorette,' right?)
ABC has not released any names in terms of the show's cast, but The Ashley can guess a few of the people we might see, based on their ability to cause drama, act immoral and provide eye candy for the viewers:
Arie Luyendyk Jr. (Emily's season): Back in January, Arie told The Ashley that he would be willing to do the show again in some form. Arie was a fan favorite and the ladies would love to see him on the show again.
Tierra LiCausi (Sean's season): Tierra is reportedly back to being single after her mysterious post-Sean engagement fell through, so she'd be a perfect pick to bring to the island. She's the new "Vienna," full of tears, drama and strange behavior.
Clare Crawley (Juan Pablo's season): Although Clare hinted that she has a boyfriend now, if she's single, she would be a great person to cast for this show. She's very, um, frisky and would be probably be a frequent hot tub user.
Kat Hurd (Juan Pablo's season): Kat was fun, feisty and looked great in a bikini. She's exactly the type that usually gets cast on these kind of shows.
Brooks Forester (Desiree's season): Brooks should be on the show because he can dump a girl like nobody's business!
Courtney Robertson (Ben's season): Courtney loved to show off her ample bosom and is currently single, as far as we know. Every season needs a few villains, and Courtney's snarky quips about her fellow contestants would make for some good soundbites.
Brad Womack (His own two seasons): For the love of Baby Jesus, please bring back ol' Womack for a third time!
Ed Swiderski (Jillian's season): While Ed has already sort of overstayed his welcome on the franchise, every season needs a token drunk, and Ed's boozing has always been good for a laugh.
Kasey Kahl (Ali's season): Kasey should be brought back solely because he may sing again and that would provide hours of enjoyment for The Ashley.
Sharleen Joynt (Juan Pablo's season): Sharleen is way too classy to do a show like this, but viewers would love to see her again. It would be great to hear her commentary on the other nitwits in the house.
Juan Pablo Galavis (His own season): Um…we all know that JP and Nikki's relationship is going to crap out in a few weeks, so that will make Juanny single and ready to mingle! This kind of show perfect for him–he can tongue all the women he wants!