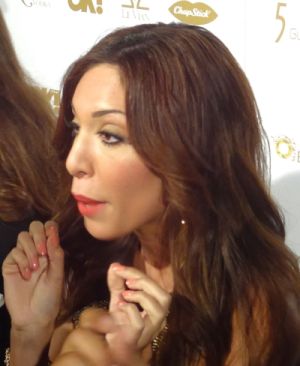 As much as The Ashley would like to tell you that this is some sort of weird April Fool's Day gag, unfortunately, it's totally true (and totally creepy).
Teen Mom-turned-sex-tape-star Farrah Abraham has announced her next money-grabbing scheme. According to In Touch Weekly, Farrah is planning on releasing a "naughty novel" loosely based on her Great Sex Tape Scandal of 2013. Yes, kids, Farrah is releasing yet another book. Book One: In The Making, which will be haunting our nightmares come this July, promises to reveal what it's like to be a young [fame- and money-obsessed] celebrity.
Unfortunately, this won't be the last literary masterpiece penned by Farrah. She actually plans to release three of these horror shows, and has already found a publisher for them.
The book series' storyline is described here:
Budding celebrity Fallon Opal is at the center of the rumor mill as news she has a sex tape surfaces. Devoted fans become invested in the scandal as Fallon struggles with the public's perception and expectations of her and her own internal alienation as "she aches for a human touch."
Um…pretty sure James Deen gave her plenty of "human touch" in her backdoor sexy time film.
Anyway, as we all know, this isn't Farrah's first jaunt into the book publishing world. In 2012, she somehow managed to sell enough copies of her book, My Teenage Dream Ended to end up on the New York Times E-Book Best Sellers list. The book, which reads like an English-Second-Language student wrote it, contained such literary gems such as:
My mom came upstairs and turned the lights on…"Oh yeah. Your water broke. It has that smell." I had to laugh because all I could think was that the smell reminded me of having Derek's cum inside me."
(The Ashley is not making this up. That is actually an excerpt from Farrah's first book, about the night she gave birth to her daughter Sophia.)
Anyway, according to Farrah, the romance novel's main character is (surprise!) based on herself.
"Fallon's story follows what I've gone through recently, much of it witnessed and misunderstood by the public," she said. "Book One is an entertaining and sexually charged novel, but it's also an inside look at the underside of being a reality TV star that everyone else can relate to."
Will you be buying this crap heap? If you want to pre-order it, you can do so using the link below.
(Book cover photo: Amazon)