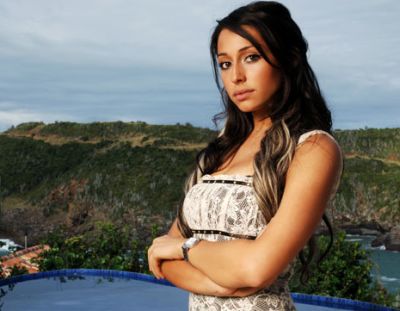 File this one under: You Can't Make This Stuff Up.
Svetlana Shusterman, who starred on Real World: Key West in 2006 and later on The Challenge: The Duel, recently filed a restraining order against Incubus singer Brandon Boyd. The 'Real World' hottie, who finished in second place on 'The Duel,' claims that Brandon has been "stalking her for years" and recently began threatening her life.
According to TMZ, Svetlana told police that Brandon followed her while she was driving onto the freeway and yelled that he was going to kill her. She has been staying at a friend's house since the incident, but Svetlana says that Brandon has hunted her down and that she is terrified every day.
Svetlana did not indicate how she and Brandon knew each other, or why he wanted to kill her. Oddly, it appears that Brandon himself would also like to know this.
"Brandon has been advised about this but doesn't know anything about it," a rep for the singer told TMZ. "He doesn't know this person nor does he recall ever having met her."
Svetlana thanked TMZ in a tweet for running the story.
"Thank you TMZ.. Stalkers want their victims to feel helpless, but i feel safer now that its public," she wrote.
Obviously, someone is lying/turning looney here. Svetlana did not indicate in her police report when the alleged freeway incident took place, but it would have had to be a while ago. Brandon is currently in Europe on tour. He has yet to address the Svetlana situation on any of his social media accounts.
A court date has been scheduled for next month, at which time the restraining order against Brandon will be reviewed. Until then he is required to stay 100 yards away from Svetlana. He probably won't have much of a problem with that…